The Xingfu Waterfront – Exploring New Taipei by cycling
Anchor point
The irrigation and water transportation provided by the river have nurtured countless civilizations and the rise of many big cities. The most important river in northern Taiwan, Tamsui River, supports more than 8 million residents in its basin. Going back in time to the 18th century, the center of the Greater Taipei area was Xinzhuang by the riverbank. "Xinzhuang Port crowded by thousands of sails, and the market lit by thousands of household lights" entails the reputation of prosperity that Xinzhuang enjoyed. In mid-19th century, Tamsui became an important international commercial port. However, due to river siltation and pollutions caused by rapid industrialization, Tamsui River was forgotten by residents. After years of improvement efforts, the riverside in New Taipei is once again a great place for citizens to enjoy relaxation and recreation.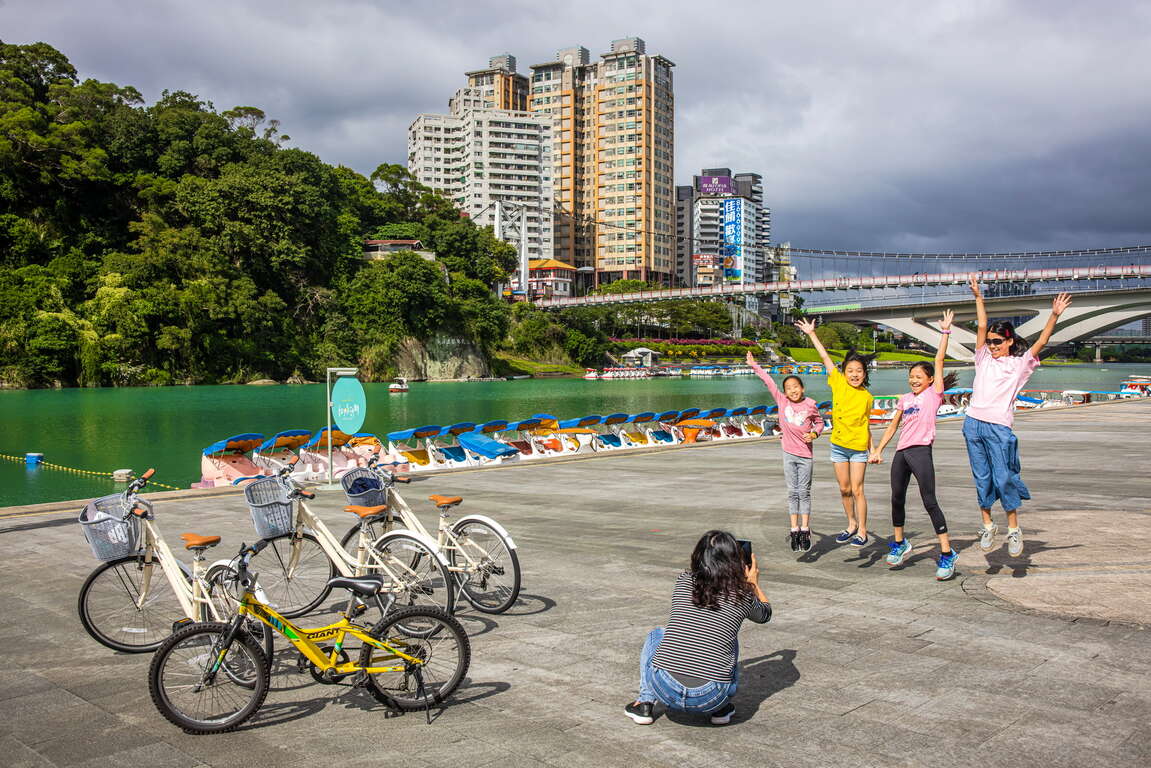 New Taipei City has a 1,382-hectare riverside park. Complete bicycle paths are made available along Tamsui River and its three tributaries—Dahan River, Xindian River, and Keelung River, with a total length of 210 kilometers, which is equivalent to the distance between Banqiao, New Taipei and Douliu, Yunlin! There are six major bicycle routes in New Taipei City, including Bali Left Bank, Golden Coast, Xizhi, Erchong Circular, Dahan River, and Xindian River. Hop on a bicycle and explore New Taipei from the waterfront at the speed of 15km per hour!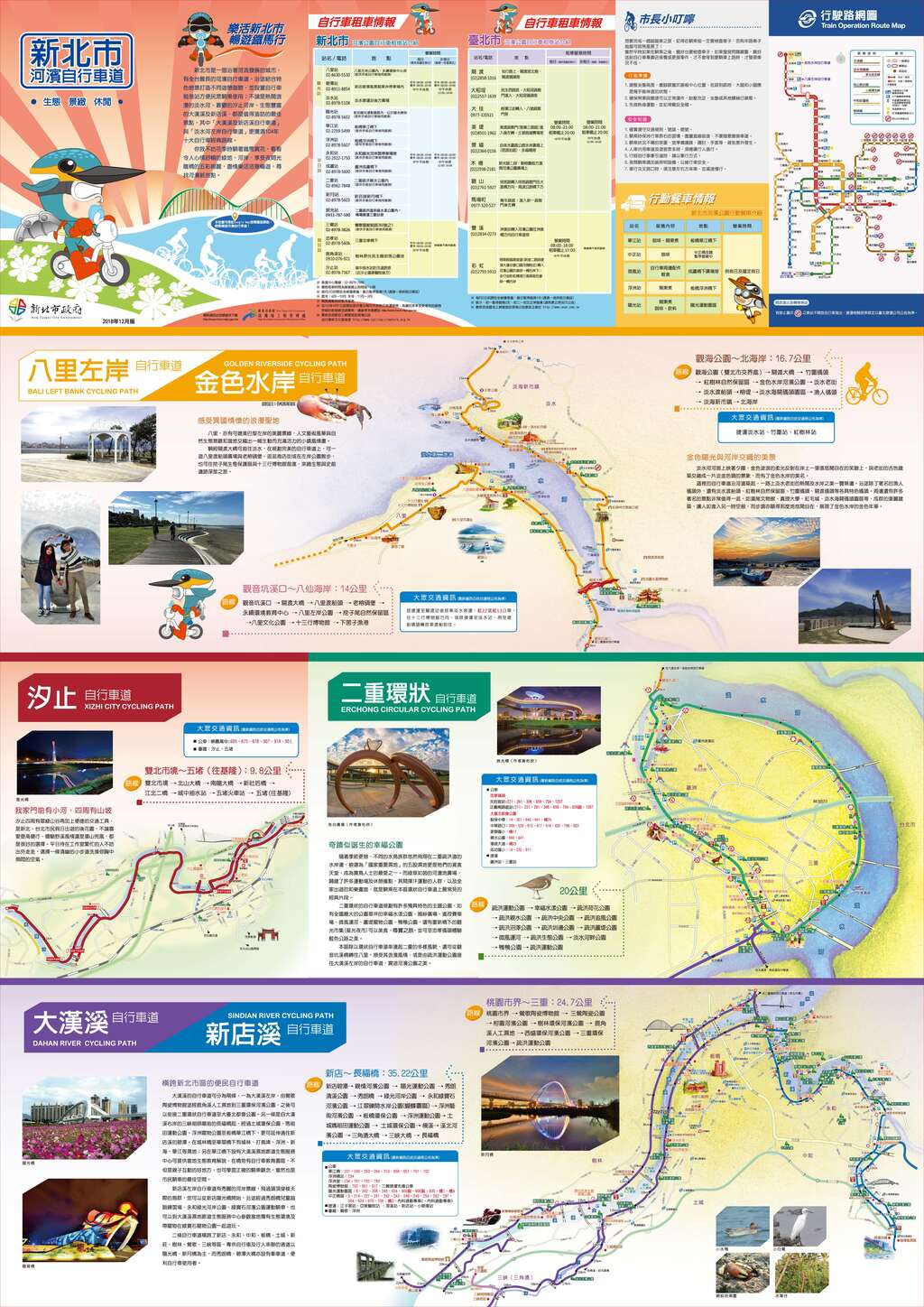 Bali Left Bank Bicycle Path


From Guanyinkeng Creek Estuary to Baxian Coast: 14 kilometers
[Route] Guanyinkeng Creek Estuary -- Guandu Bridge -- Bali Ferry Dock -- Laorong Bunker -- Sustainable Development Education Center -- Bali Left Bank Park -- Waziwei Nature Reserve -- Bali Cultural Park-- Shihsanhang Museum of Archaeology -- Xiaguzi Fishing Port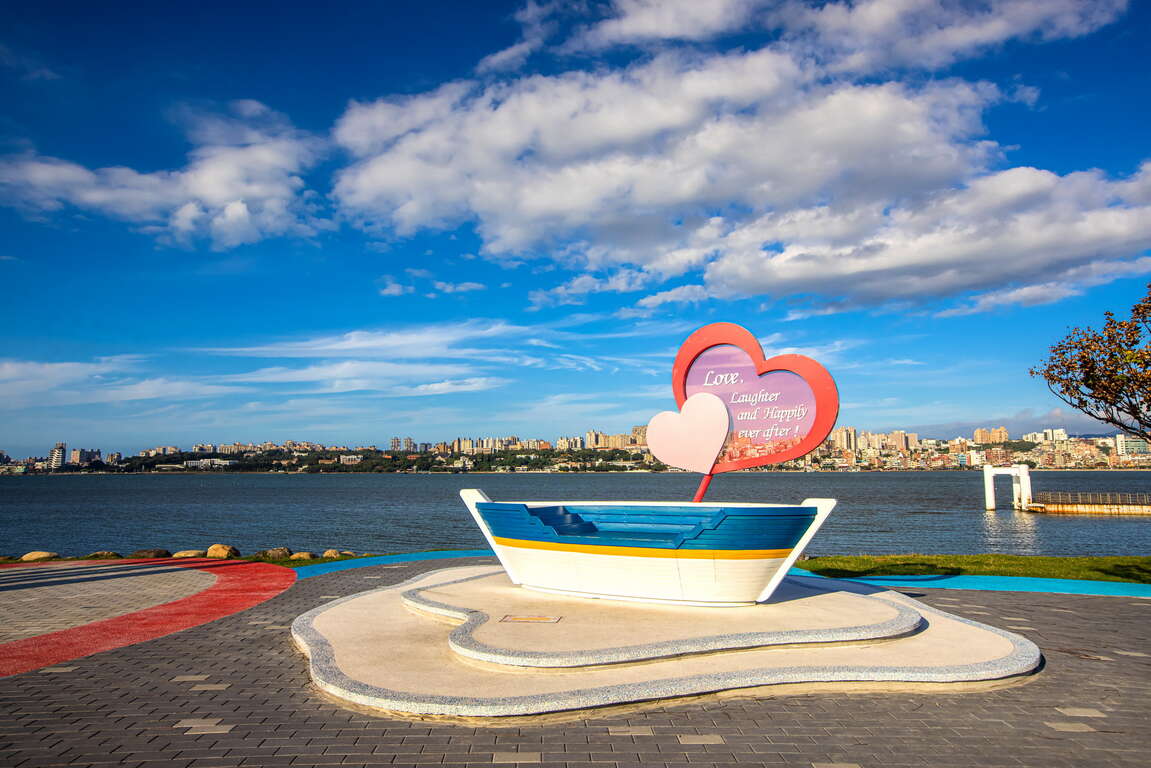 Bali, located on the left bank of Tamsui River, is connected to Tamsui by ferries and Guandu Bridge across the wide Tamsui River. It is a port with a long history in New Taipei. Shisanhang Museum of Archaeology, an important archaeological site in Taiwan, is also located in this area. Cycling from the starting point of Guanyinkeng towards the estuary, you will see Guanyin Mountain on the left and Tamsui River on the right. On the way, you will pass by Guandu Bridge, Bali Ferry Dock Old Street, Shisanhang Museum of Archaeology, and other major attractions. Bali is also one of the top areas in terms of green space per capita. There are many inclusive parks along the route, such as Shanggang Park, Ferry Dock Park, Pianzigou Park, Shuixinggong Park, Shisanhang Cultural Park, and Bali Left Bank Park. The BALI landmark at Bali Left Bank Park is a popular social media photo spot.

The casual atmosphere of Bali has brought many coffee shops here. Choose a coffee shop to spend a relaxed afternoon or visit Ferry Dock Old Street to taste the famous Shuangbaotai (fried pastry) and various fried seafood to satisfy your inner foodie!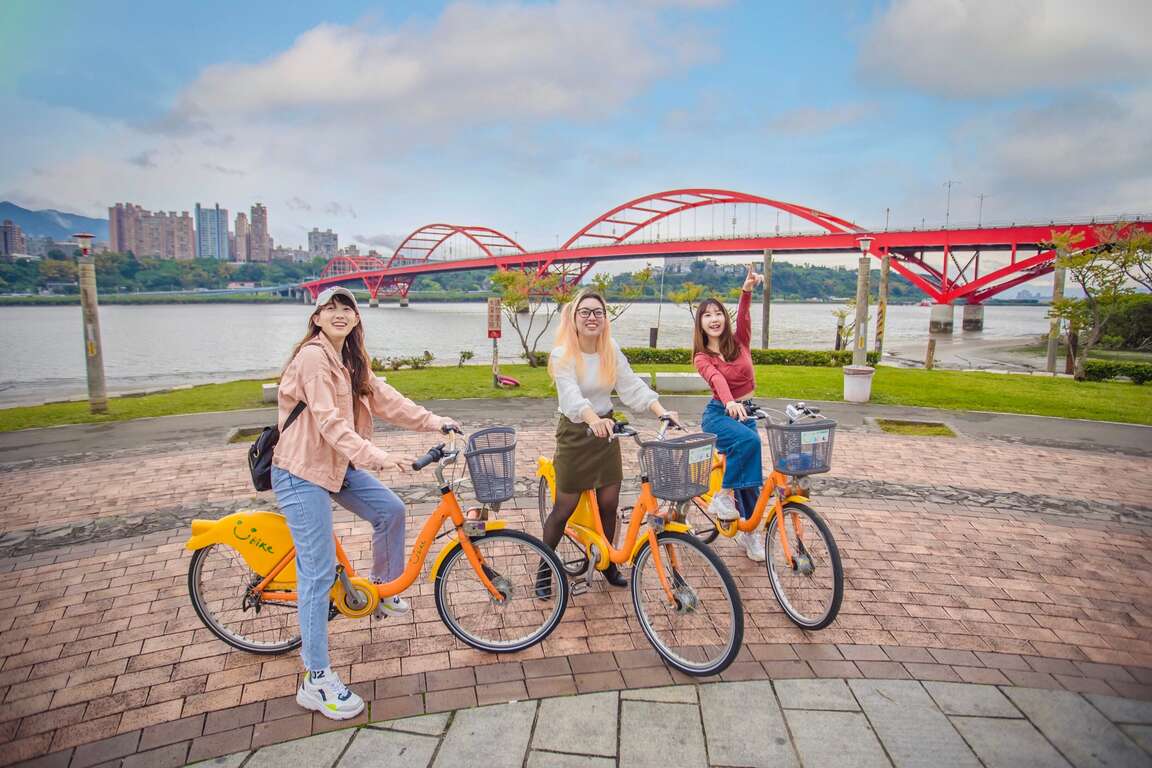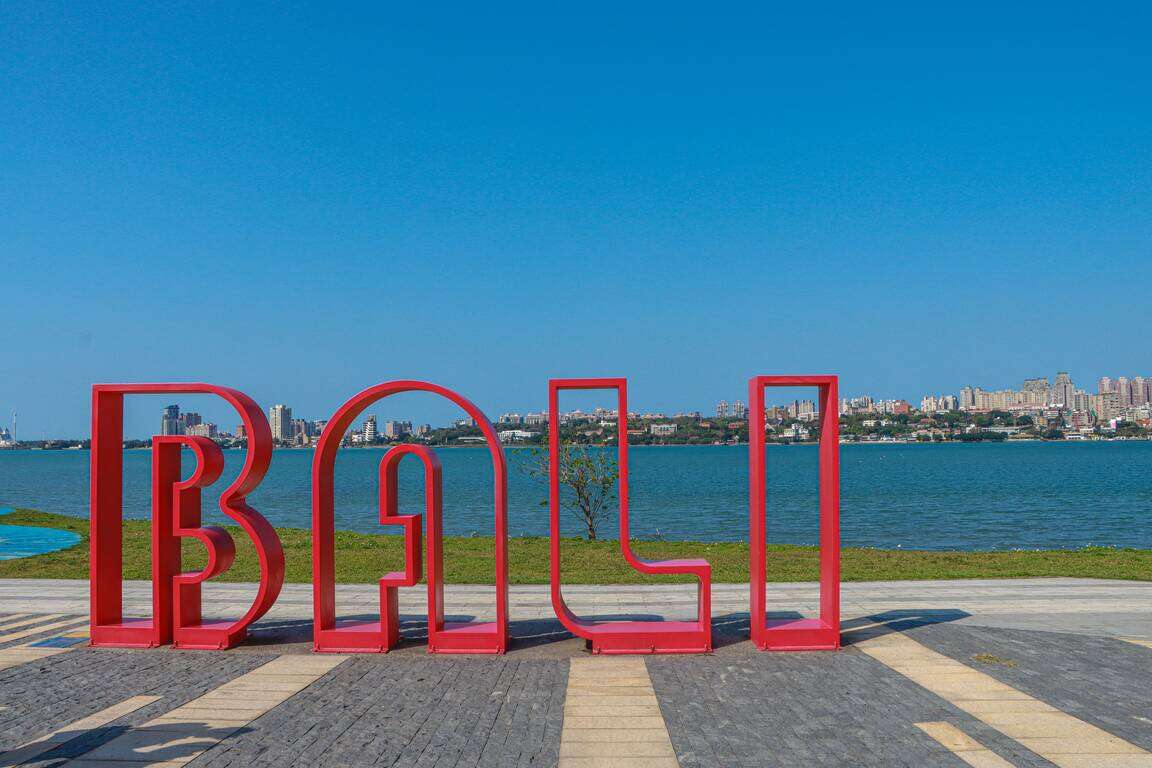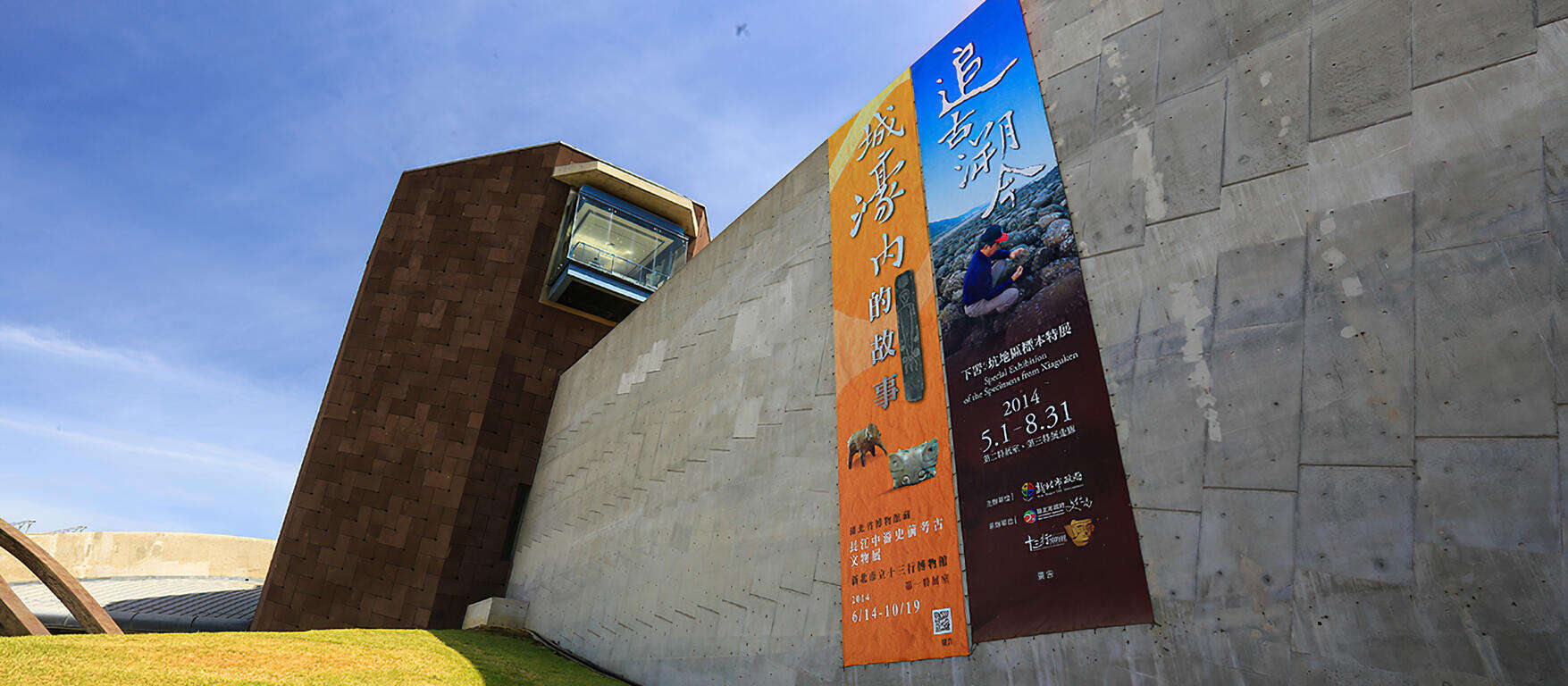 Golden Coast Cycling Route
From Guanhai Park to North Coast: 16.7 km
[Route] Guanhai Park (the border between Taipei and New Taipei) -- Guandu Bridge -- Zhuwei Pier -- Mangrove Nature Reserve -- Golden Coast Riverside Park -- Tamsui Old Street -- Tamsui Ferry Dock -- Banyan Embankment -- Tamsui Customs Wharf Park -- Fisherman's Wharf -- Danhai New Town -- North Coast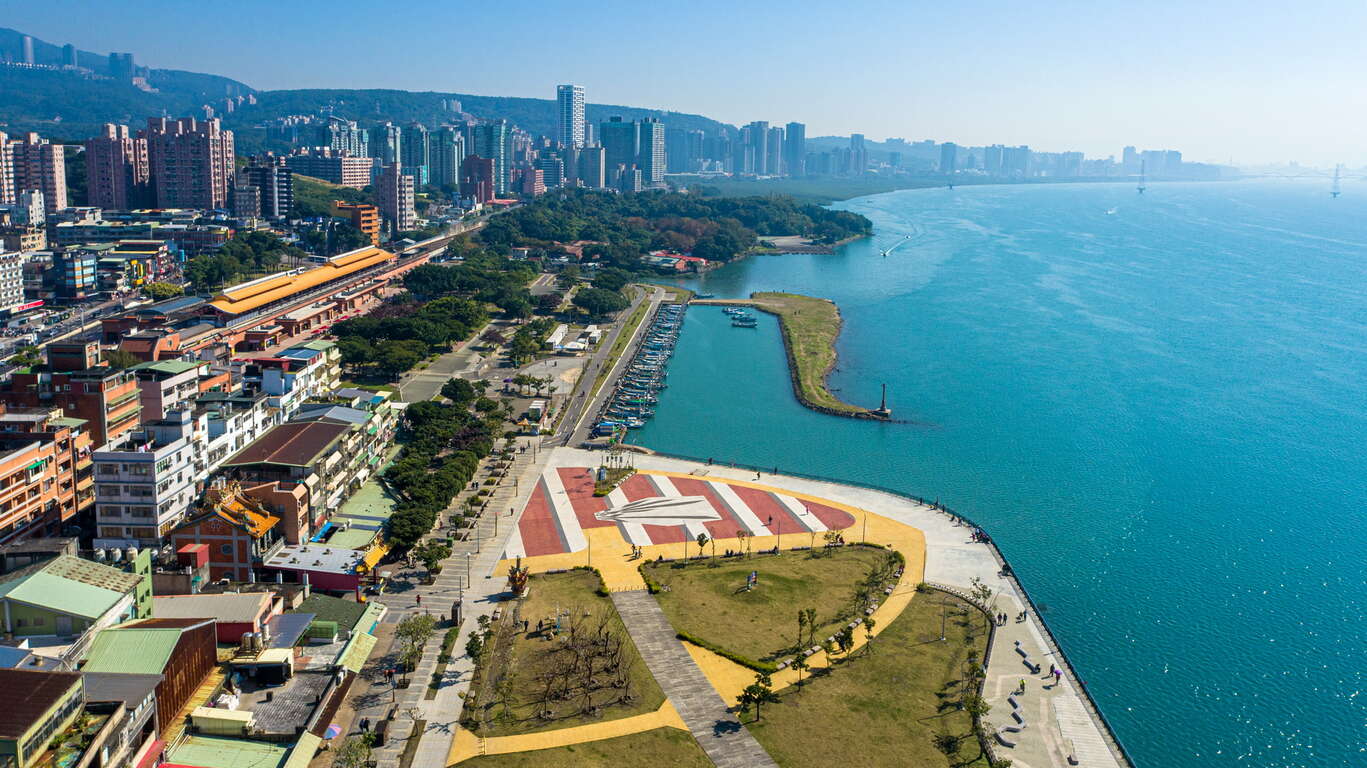 There are many eateries on Tamsui Old Street. The most representative dish, A-gei, is made by hollowing out the middle of fried tofu, filling it with fried cellophane noodles, soaking it in a sauce, sealing it with fish paste, and finally serving it with a sweet and spicy sauce drizzled on top. It is a seemingly simple but unforgettably tasty dish.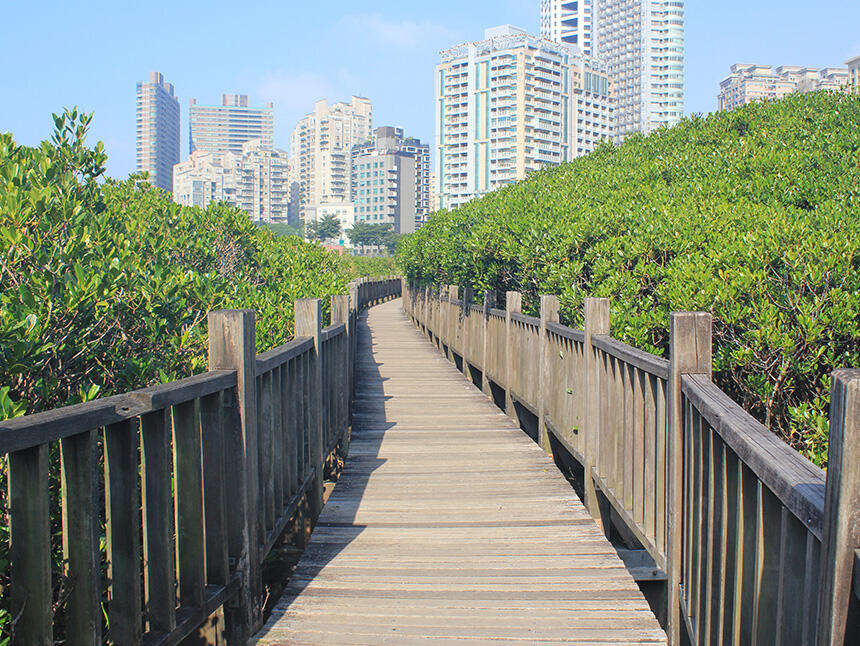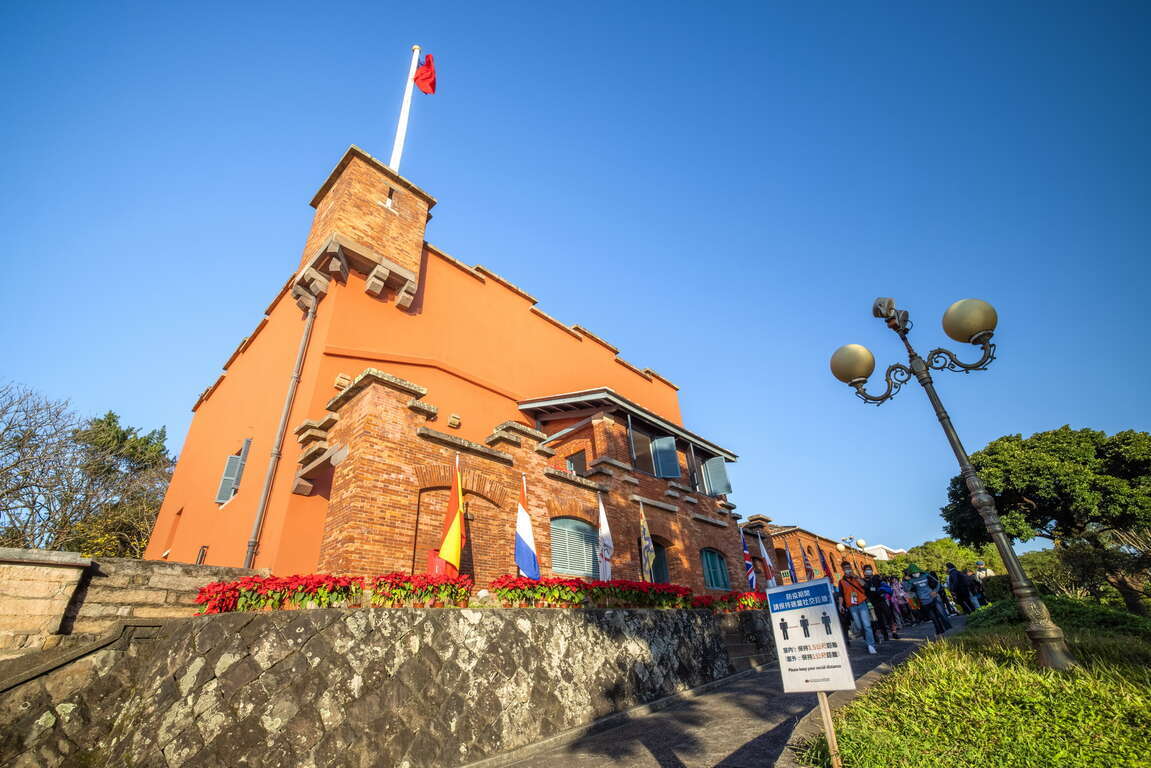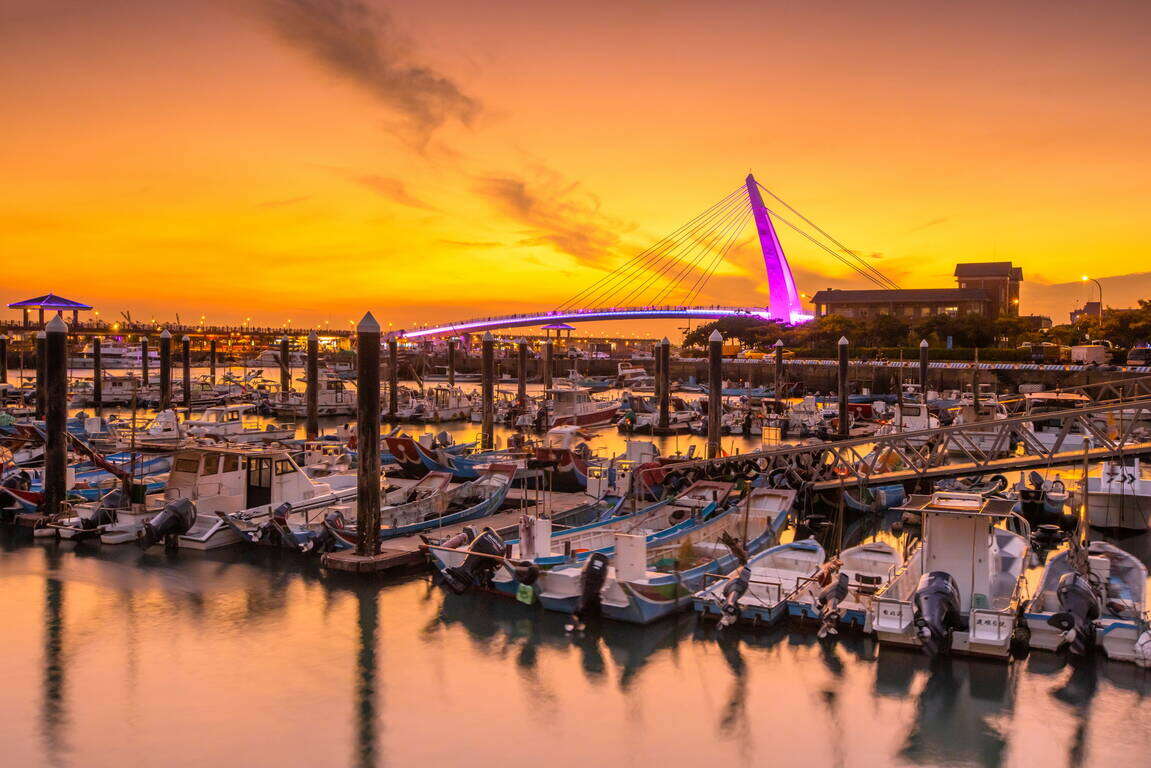 Xizhi Bikeway
From the border between Taipei and New Taipei to Wudu (towards Keelung): 9.8 km
[Route] The border between Taipei and New Taipei -- Beishan Bridge -- Nanyang Bridge -- New Shehou Bridge -- Jiangbei Second Bridge -- Chengzhong Pumping Station -- Wudu Railway Station -- Wudu (towards Keelung)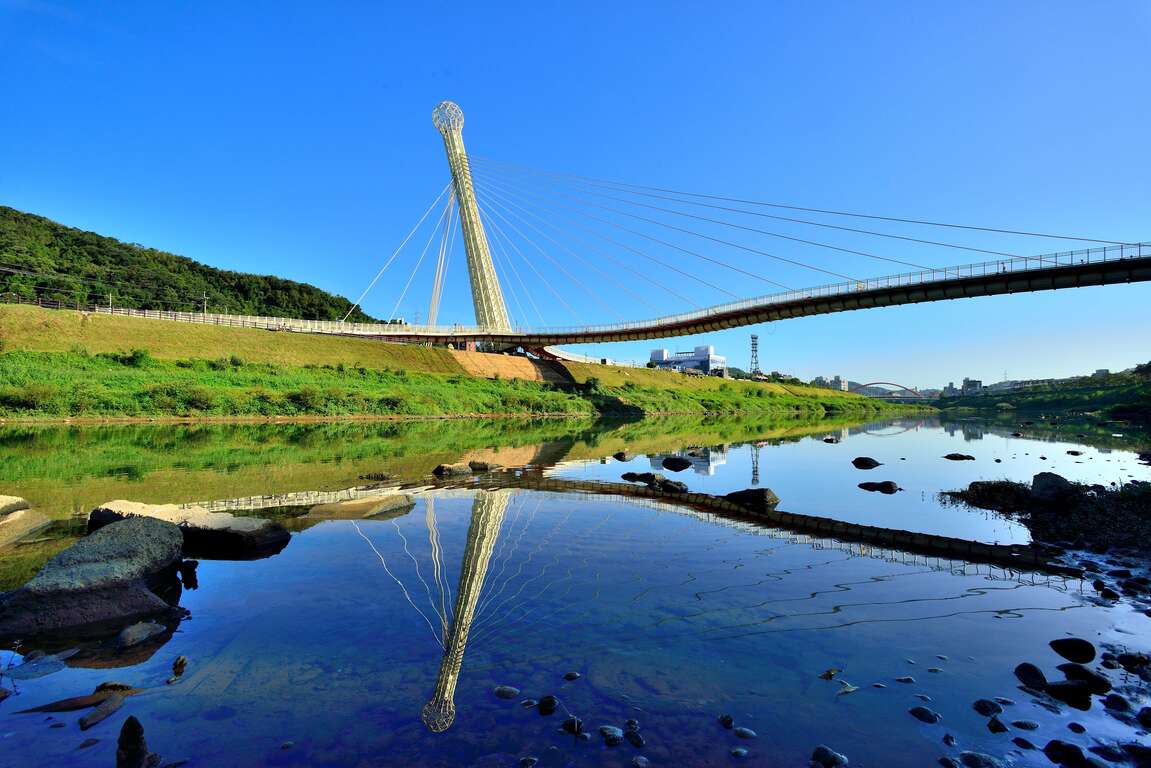 Xizhi, located at mid-stream Keelung River, was known as Shuifanjiao in the past. Situated between Taipei City and Keelung City, it is the most densely populated area on the east side of New Taipei City. Its early development was due to the rise of river transportation on Keelung River, in which Xizhi became an important distribution center for tea and other goods from the neighboring mountains. Keelung River is the most tortuous among the three tributaries of Tamsui River. You can feel the unique landscape of this river when cycling along the bank. The most eye-catching landmark of this bikeway is the Starlight Bridge that is shaped like a microphone. This single-tower, cable-stayed bridge is for pedestrians and bicycles only. Along the bikeway, there are major attractions such as Xizhi Old Street, Xizhi Jide Temple, and Wudu Tunnel Bicycle Path.

Xizhi Night Market is a treasure trove of delicacies, including stinky tofu, Chinese angelica duck, shaved ice, ba-wan (Taiwanese meatballs), and Taiwanese fried chicken, waiting for you to discover.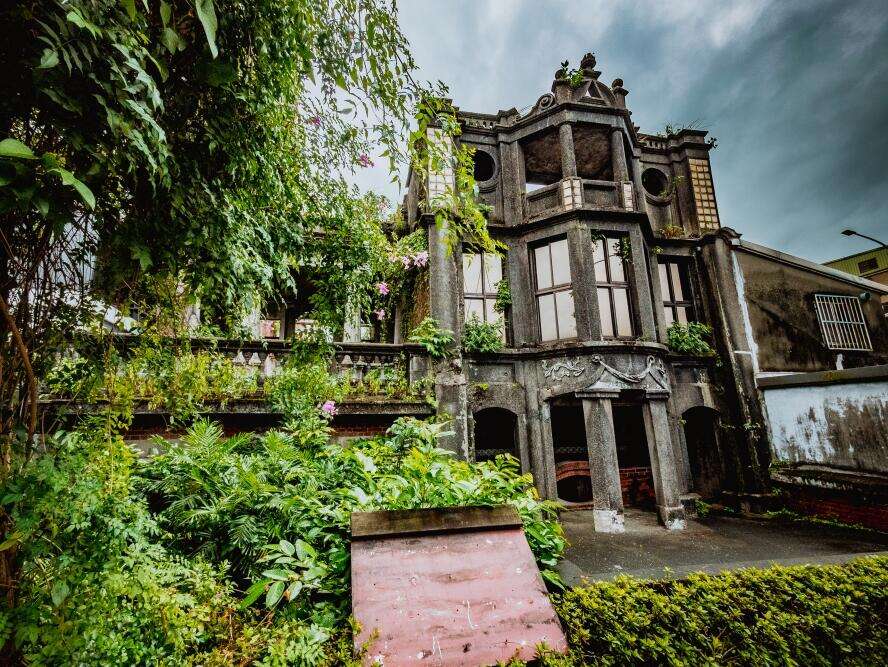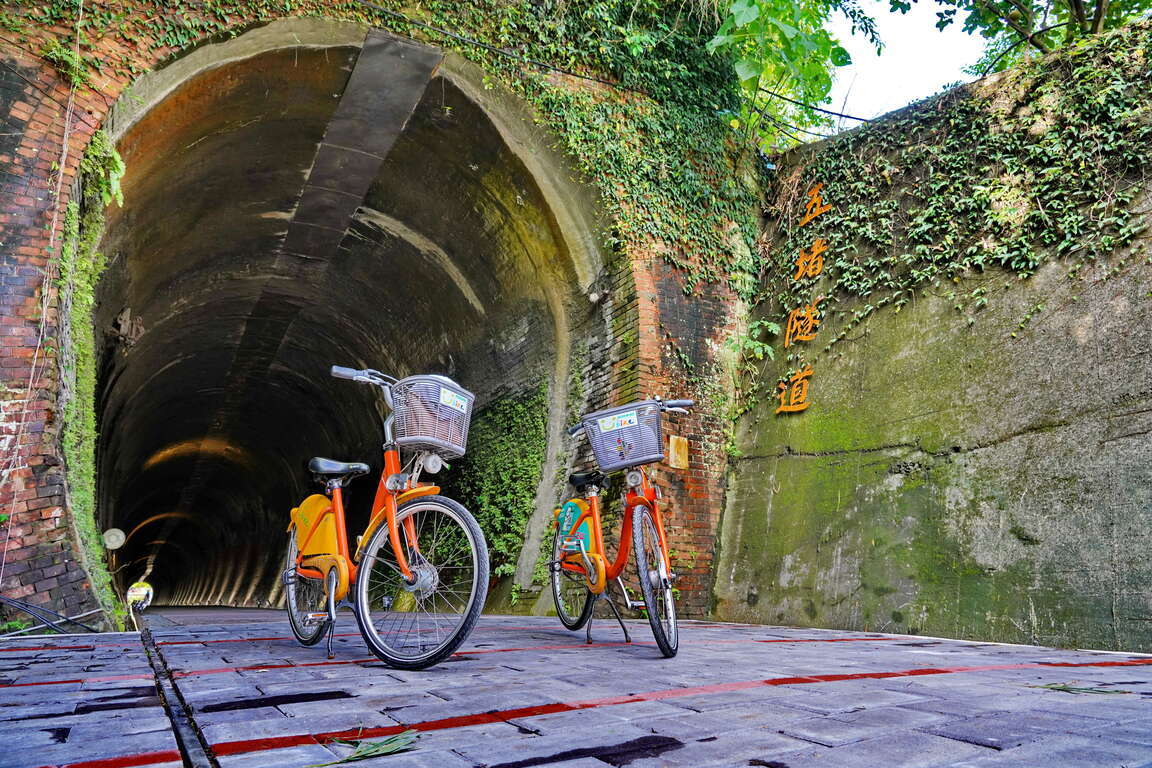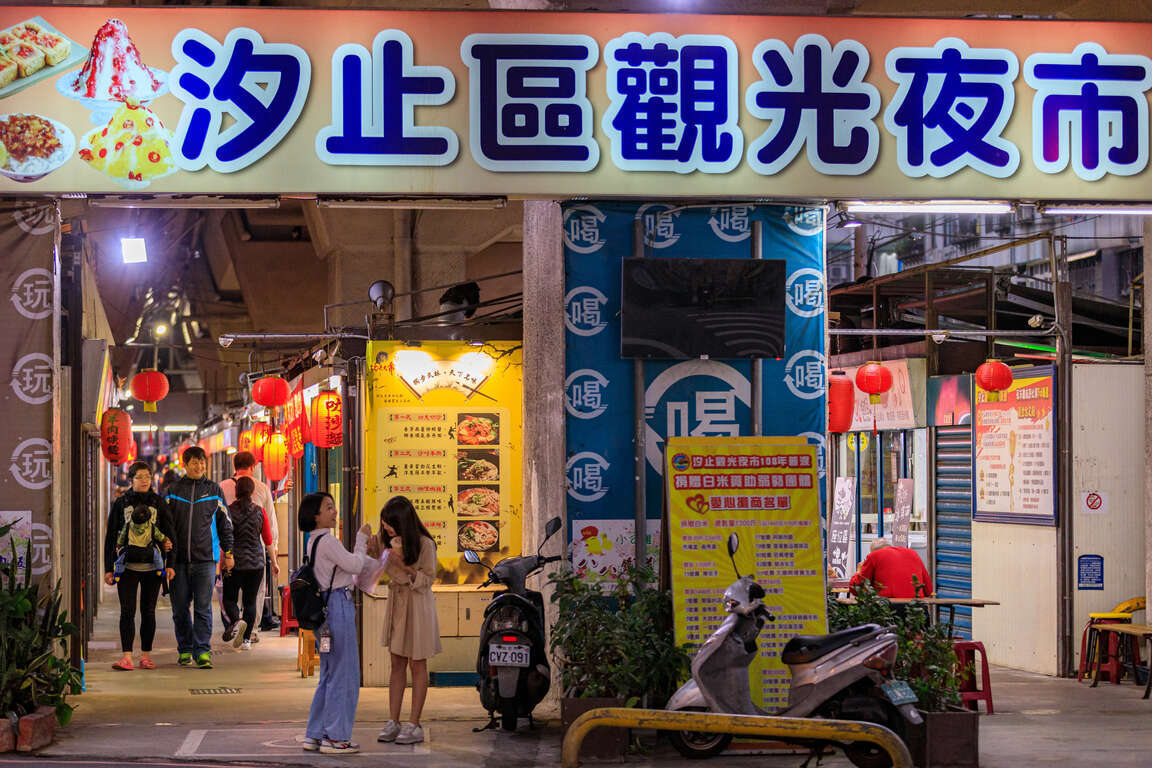 Erchong Circular Bikeway
One lap of the bikeway: 20 kilometers
[Route] Floodway Sports Park -- Xingfu Waterfront Park -- Floodway Lotus Park -- Floodway Waterfront Park -- Floodway Central Park -- Floodway Zhuifeng Park -- Floodway Marsh Park -- Floodway Canal Park – Floodway Luti Park -- Breeze Canal -- Floodway Ecological Park -- Tamsui Riverside Park -- Duckie Park -- Floodway Sports Park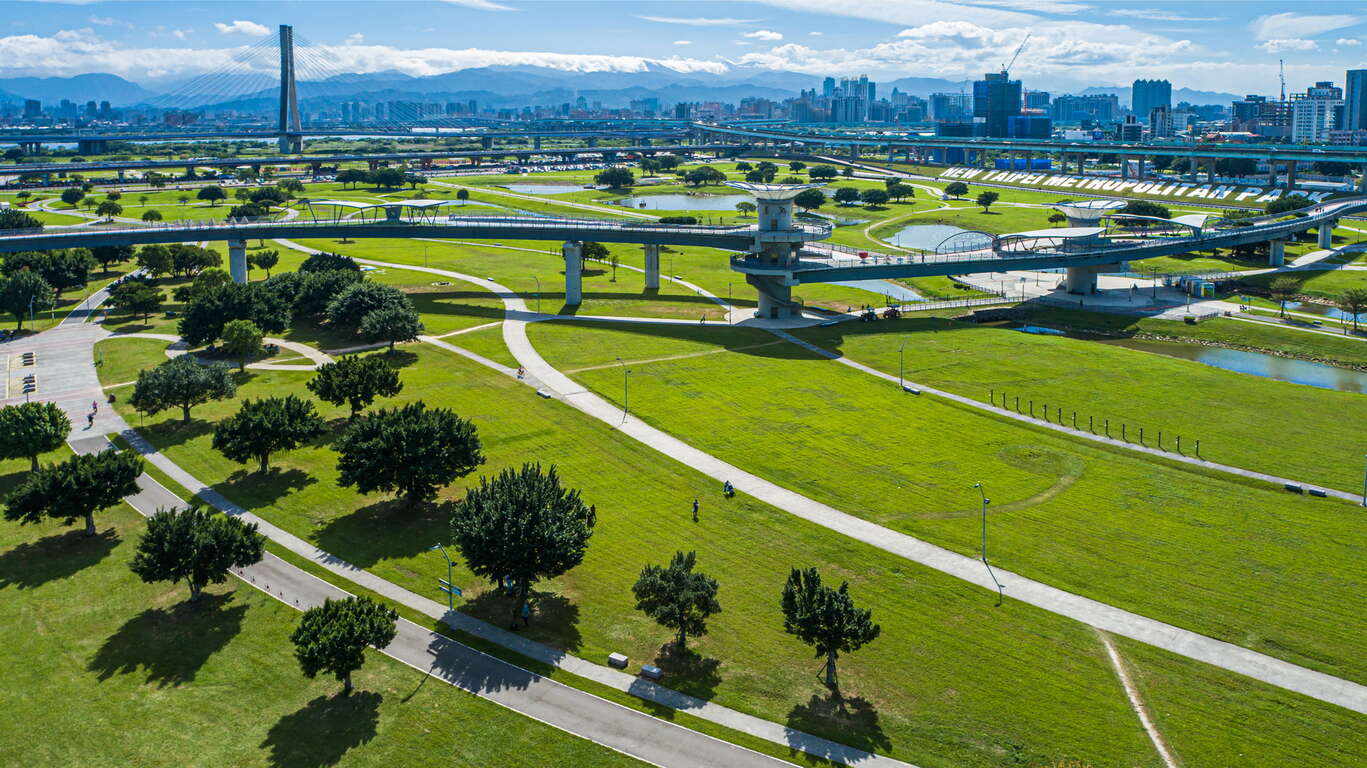 Erchong Floodway was part of the Greater Taipei Area Flood Control Plan. It connects with Tamsui River on the east side to form a circle that bounds Luzhou, Sanchong, and part of Wugu as an island, which connects to Xinzhuang, Wugu, and Taipei City by a dozen of bridges. One lap of Erchong Circular Bikeway is about 20 kilometers long. New Taipei City Government has planned a number of sports and entertainment venues at Erchong Floodway, including New Taipei Metropolitan Park, Xingfu Water park, Breeze Canal, and Chenguang Bridge, which is designed for pedestrians and bicycles only. Along Tamsui River, there is Sanchong Air Force Military Kindred Village No. 1, which is an important cultural asset of New Taipei. Anti-aircraft artillery positions and underground tunnels there have been preserved and now used as a shooting location for film crews.

Sanhe Night Market next to MRT Taipei Bridge Station is where many eateries that have been in business for more than 30 years are, selling delicacies such as sesame oil chicken soup, wontons, ba-wan (Taiwanese meatballs), herbal tea, and papaya milk. They are great snacks after exercising.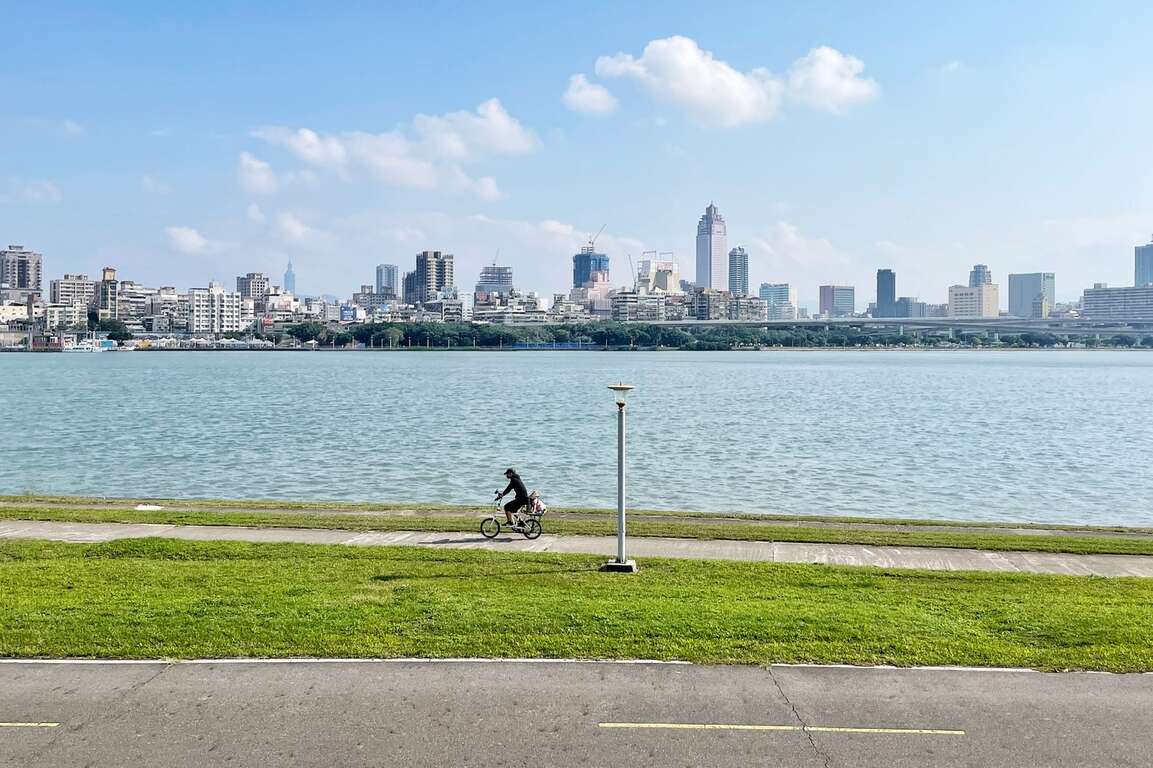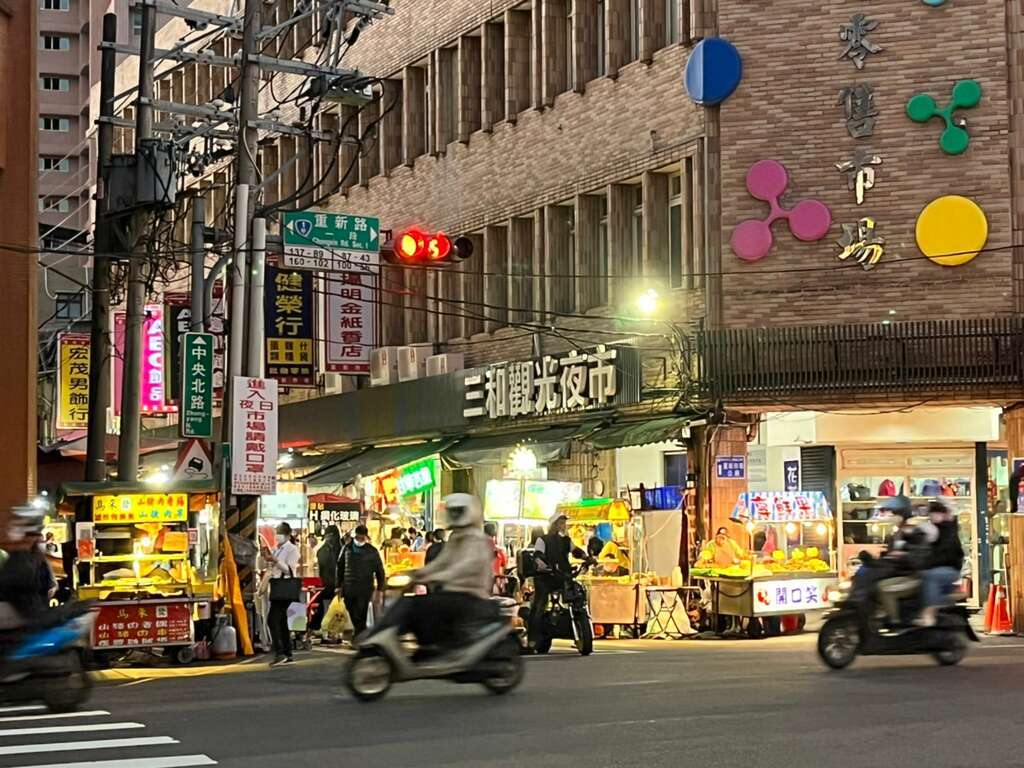 Dahan River Bikeway
From Left Bank - Taoyuan City border to Sanchong: 24.7 km
[Route] Taoyuan City border -- Yingge Ceramics Museum -- Sanying Ceramics Park -- Ganyuan Riverside Park -- Shulin Riverside Environmental Park -- Lujiao Creek Constructed Wetland -- Xisheng Riverside Environmental Park -- Sanchong Riverside Environmental Park -- Floodway Sports Park

From Right Bank - Changfu Bridge to Huajiang Bridge: 19.5 km
[Route] Changfu Bridge – Sanxia Bridge -- Sanjiaoyong Bridge -- Xibei Riverside Park -- Tucheng Environmental Park -- Tucheng Mazutian Riverside Park -- Fuzhou Sports Park -- Banqiao Environmental Park -- Fuzhou Arts Riverside Park -- Huajiang Bridge


Dahan River, formerly known as Dakekan River, is the longest tributary of Tamsui River. Its upper reach is the catchment area of Shimen Reservoir, which supplies water to Taoyuan City and the west side of New Taipei City. After entering New Taipei City, it passes through Yingge, Sanxia, Shulin, Tucheng, Xinzhuang, Sanchong, and finally merges into Tamsui River with Xindian River in Jiangzicui, Banqiao. The first section of Dahan River Bikeway is the heart of New Taipei City's art and creativity. Yingge Ceramics Museum and the upcoming New Taipei City Art Museum are here. The middle section passes through a number of ecologically rich wetland parks, such as Lujiao Creek Constructed Wetland, Fuzhou Constructed Wetland, and Xinhai Constructed Wetland. In the last section, you can find 435 Art Zone, which is suitable for families with children; and the most beautiful landmark on Dahan River, Crescent Bridge, which is the longest double-span steel arch bridge in Taiwan.

Dahan River has deep culture and history. The most prosperous Xinzhuang Temple Street of Greater Taipei in mid-Qing Dynasty is still busy today. Xianguang cake, which is a temple street specialty is shaped like a bagel or donut with a mixed savory and sweet taste. It carries good blessings so you will be safe and sound after eating it. Sanxia Old Street is famous for its Baroque facade buildings and red brick archways, developed in late Qing Dynasty and the Japanese Rule period. The famous Golden Croissant also originated from the market of Sanxia. A variety of flavors and methods to enjoy them have been developed over time. It is a popular souvenir from Sanxia.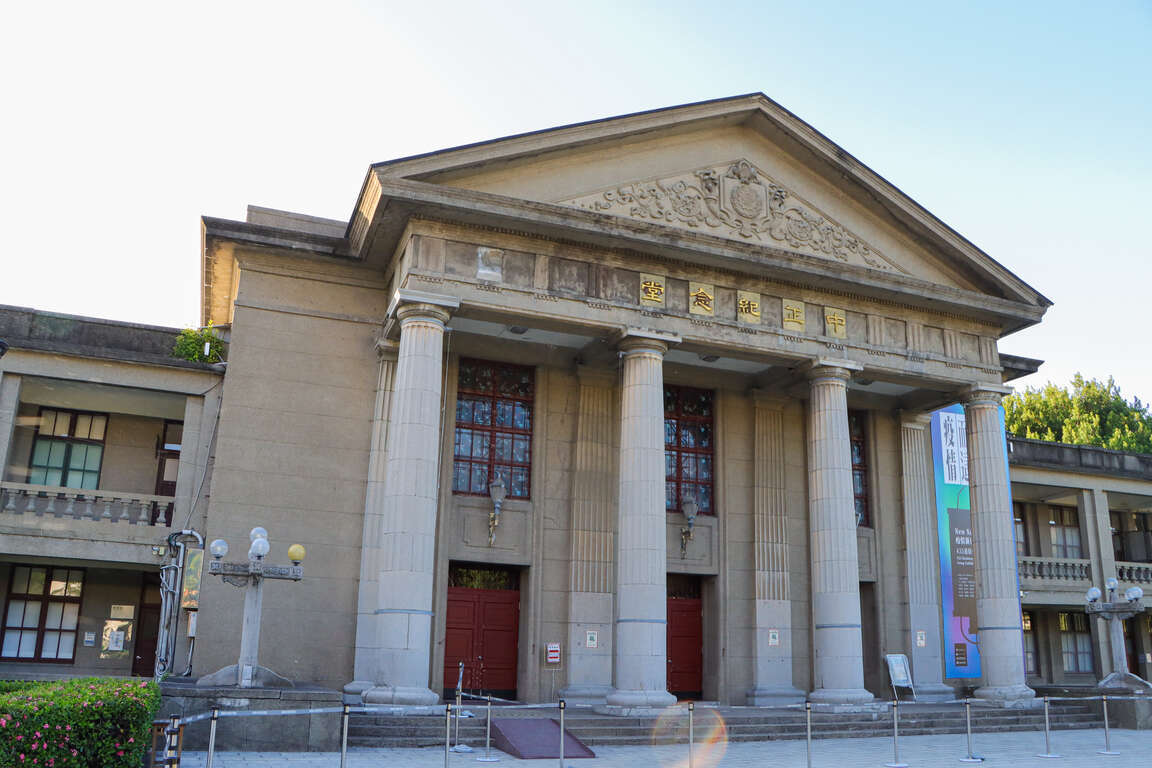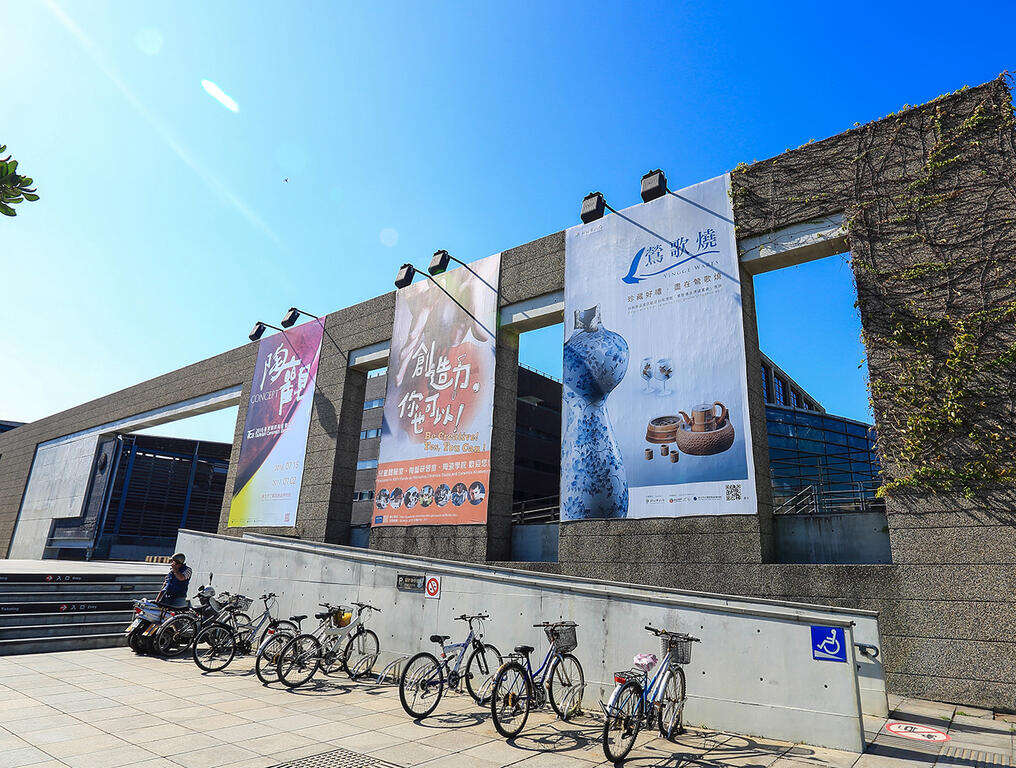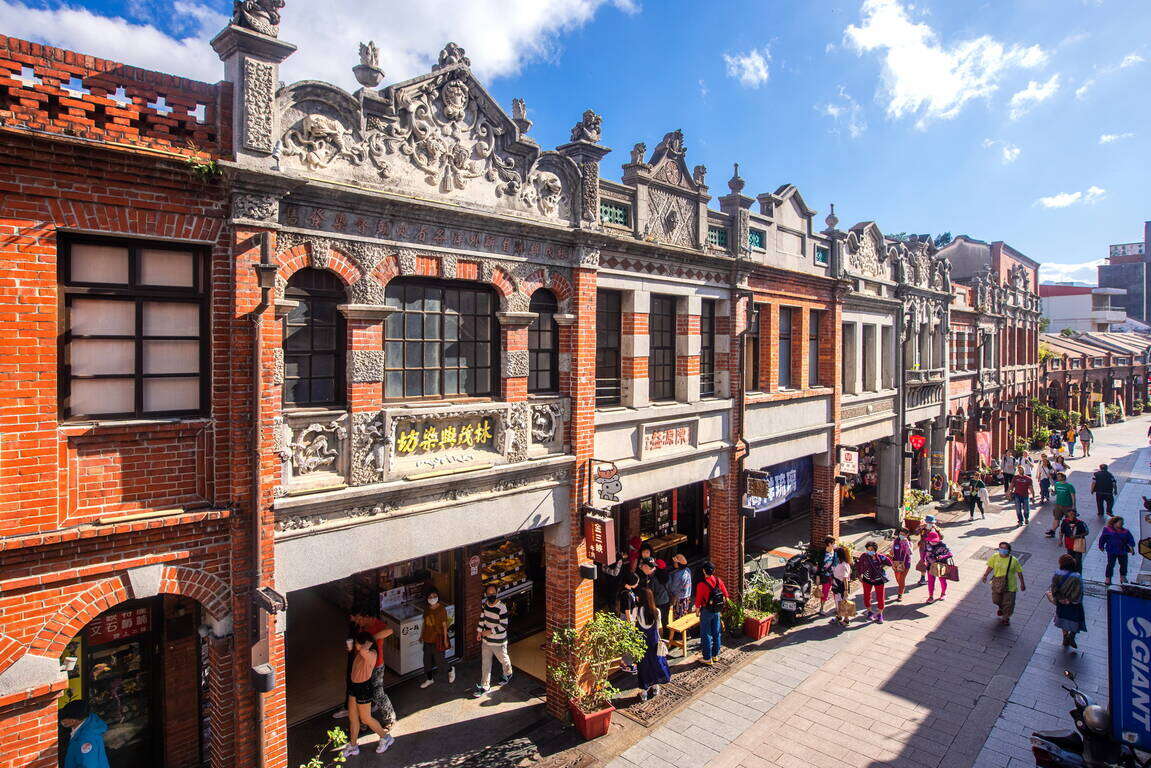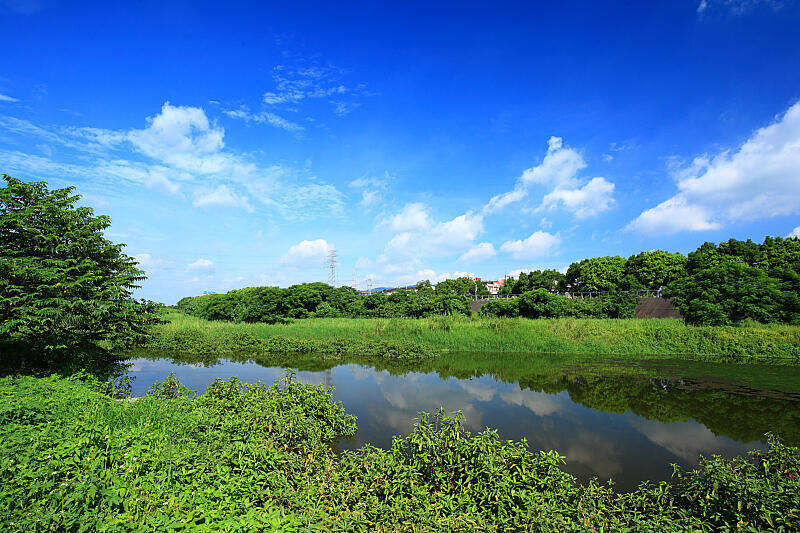 Xindian River Bikeway


From Huajiang Bridge to Bitan Scenic Area: 16 km
[Route] Huajiang Bridge -- Butterfly Park -- Yonghe Emerald Riverside Park -- Luguang Riverside Park -- Xiulang Bridge -- Xiulang Qingxi Park -- Sunshine Sports Park -- Qinqing Riverside Park -- Xindian Bitan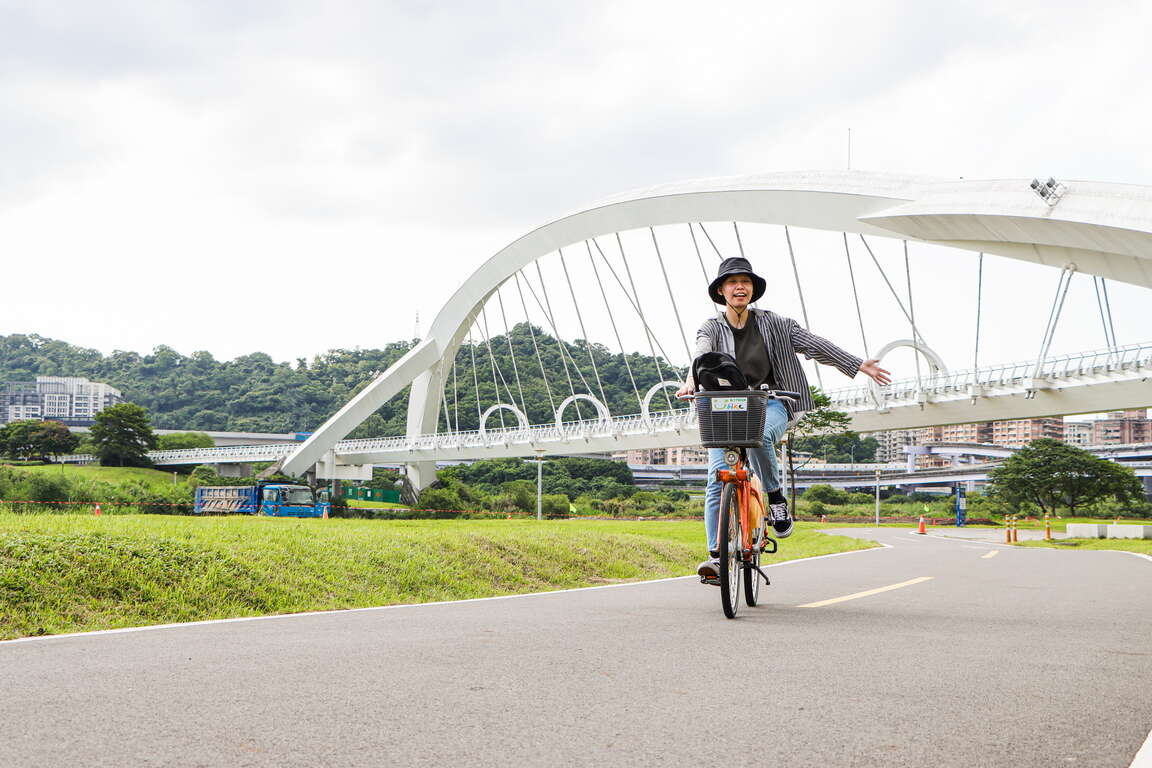 Xindian River has high-quality water and is the hometown of Taiwan sweetfish. The upstream tributary, Beishi River, constitutes the most important reservoir supplying water to the Taipei Metropolitan Area, Feicui Reservoir. Xindian River Bikeway starts from Jiangzicui, Banqiao and ends at Bitan, Xindian. It passes through four major administrative districts, namely Banqiao, Zhonghe, Yonghe, and Xindian. There are many theme parks along the way, such as the popular social media photo spots Butterfly Park and Dinosaur Park. You can also visit Yang Sanlang Art Museum to learn about the development of modern art in Taiwan. In Xindian, you can find Sunshine Bridge of Xindian River that is exclusive to pedestrians and bicycles, as well as Bitan Scenic Area. The scenery here can be enjoyed day and night.

Yonghe Soymilk, which originated from the Zhongzheng Bridge area of Yonghe, is now well-known at home as well as abroad. After visiting Yang Sanlang Art Museum, it is the perfect timing to visit the founding store to taste the rich and silky soymilk.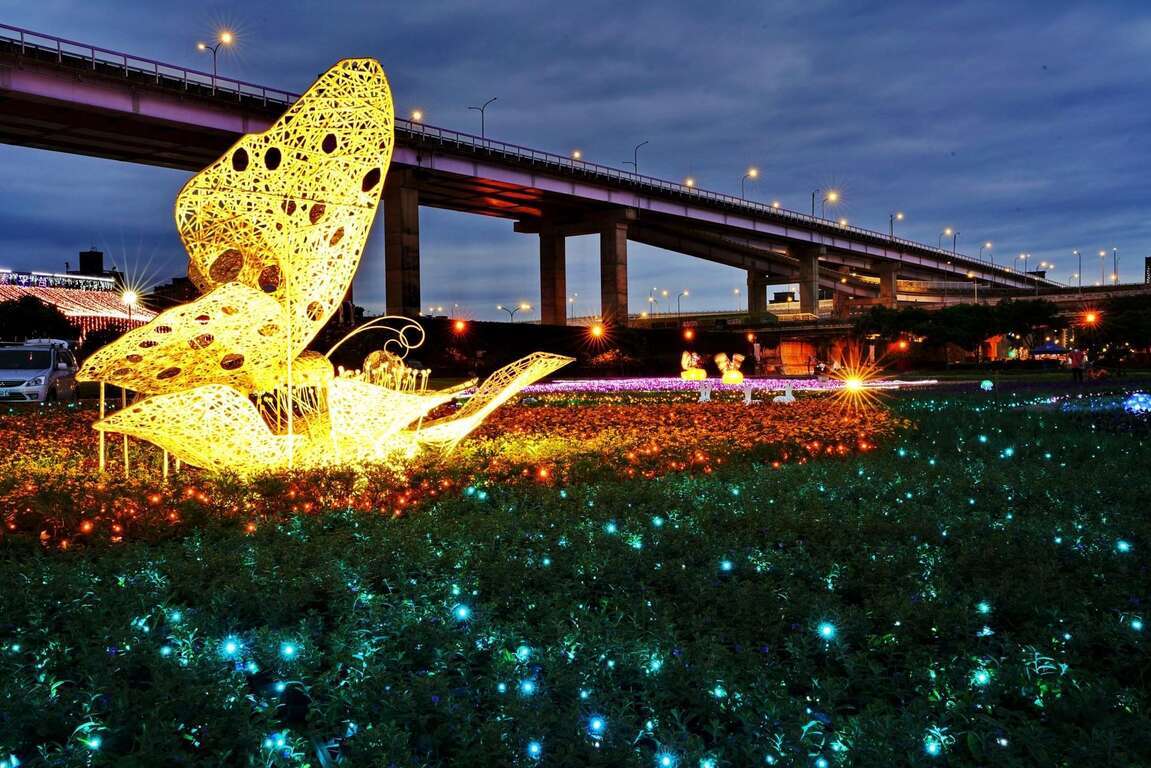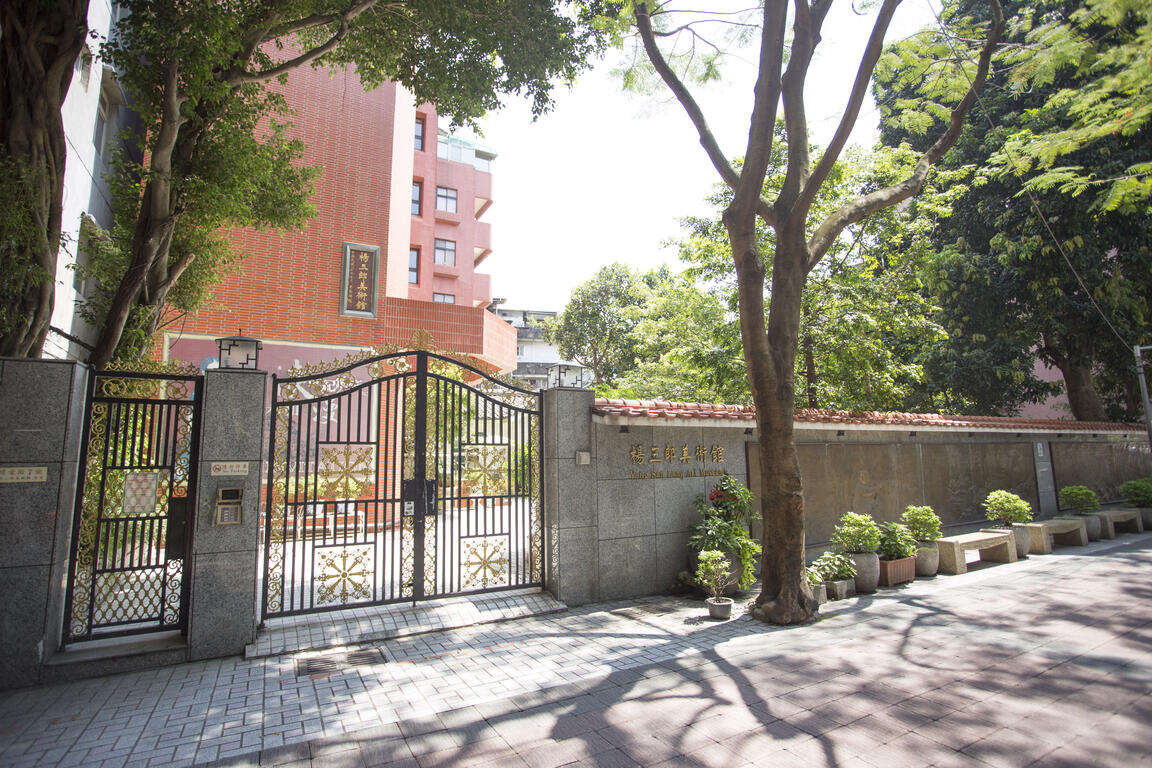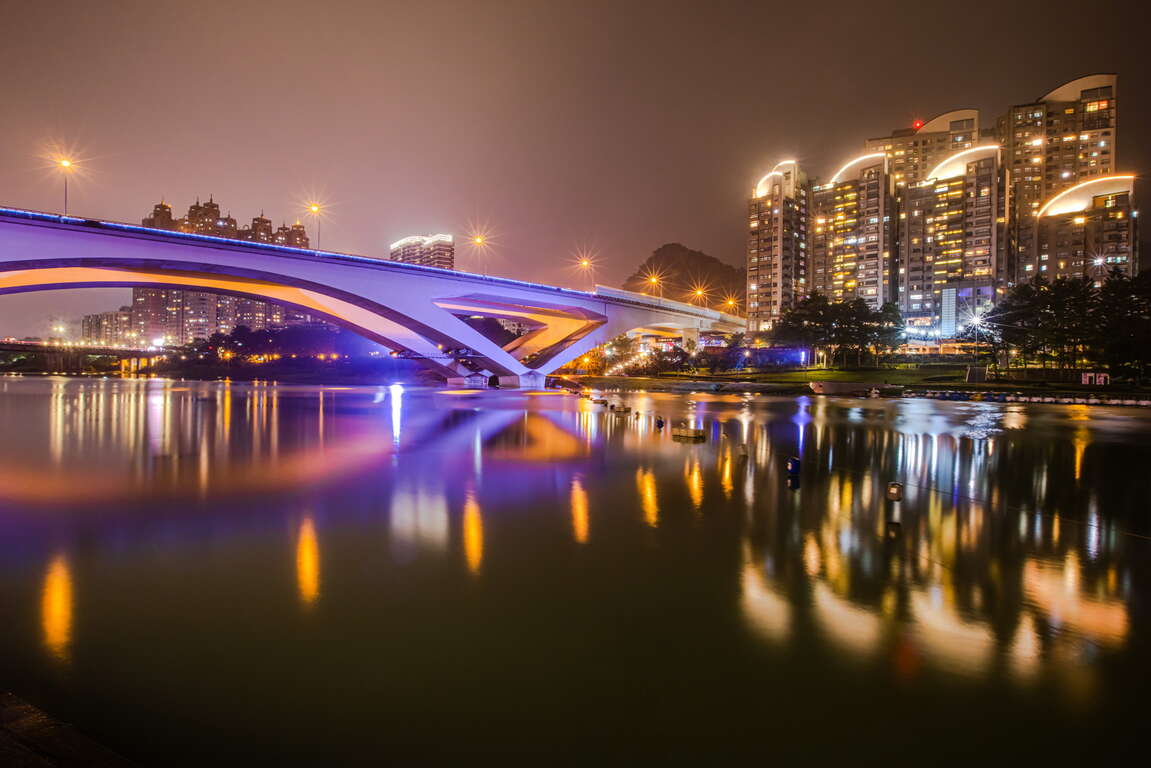 Xingfu Waterfront is the most open area in the most densely populated city of Taiwan. Riding along the riverbank at a speed of 15km per hour in the breeze, after leaving the noisy concrete jungle, you will find the waterfront without cars or motorcycles as a quiet and calming path. At the same time, you will be delighted to find out that besides humans, there are many creatures living among us in this city. Hop on a bike, with a different vision and mood, set off to the waterfront!