Anchor point
Specially Selected Souvenirs
The most common favorite and unique gifts from New Taipei City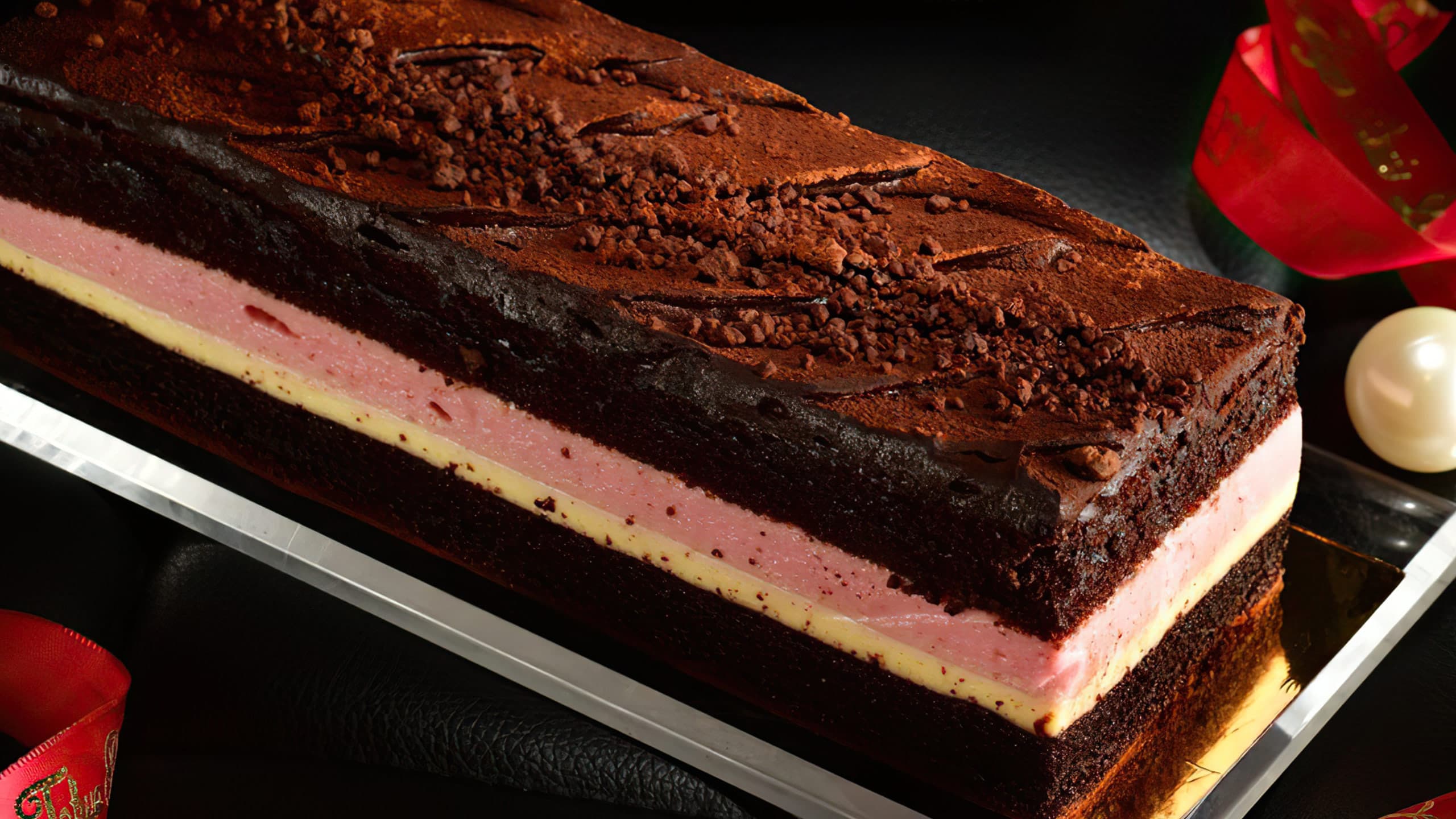 A complete guide to souvenirs for yourself and for others.
Local souvenirs make traveling all the more fun! We can savor it at our leisure and share it with family and friends! Try New Taipei City's alcohol-infused macarons and maltose to enjoy the sweet taste. Drink the refreshing tea in the Wenshan and Shiding tea areas. Last but not least, don't forget the seafood in Gongliao. Let the diverse souvenirs prolong the fun of traveling!
Anchor point
Desserts
Searching for specialty desserts exclusively available in New Taipei City and bring home the sweetness.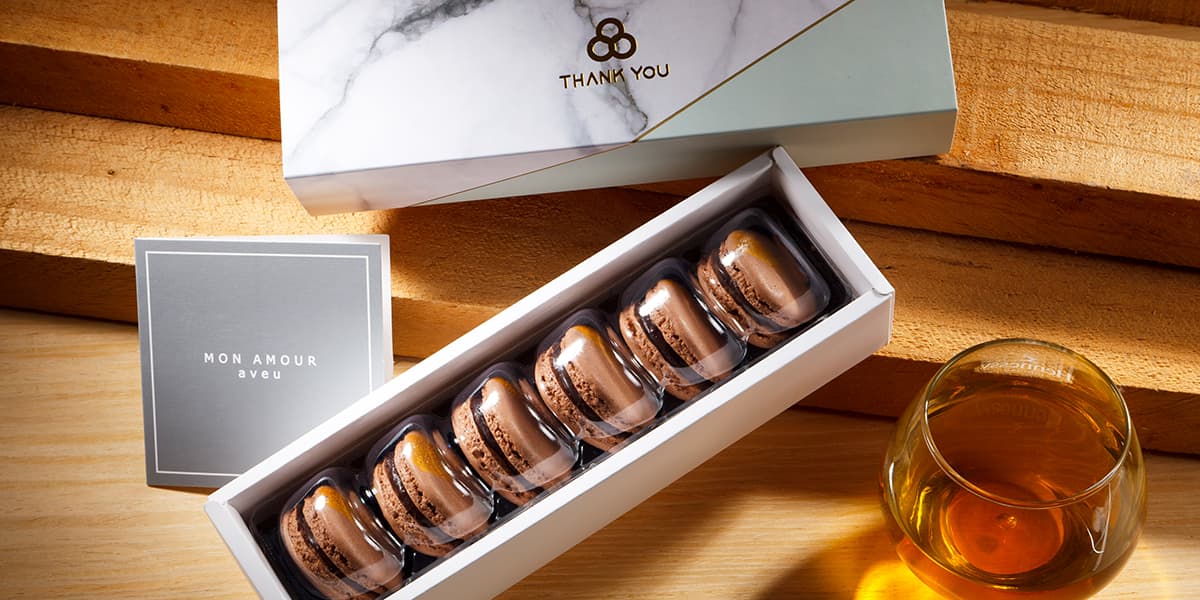 Alcohol-Infused Macarons – Bourbon Whiskey with Roasted Salted Almonds
Made with 73% Valrhona Guanaja chocolate, this macaron combines Champion Whiskey with roasted salted Californian almonds. Together, the whiskey aroma and savory nuts with the bitter-sour cocoa create an alcohol-infused flavor.
/ Photos provided by Thank You Bakery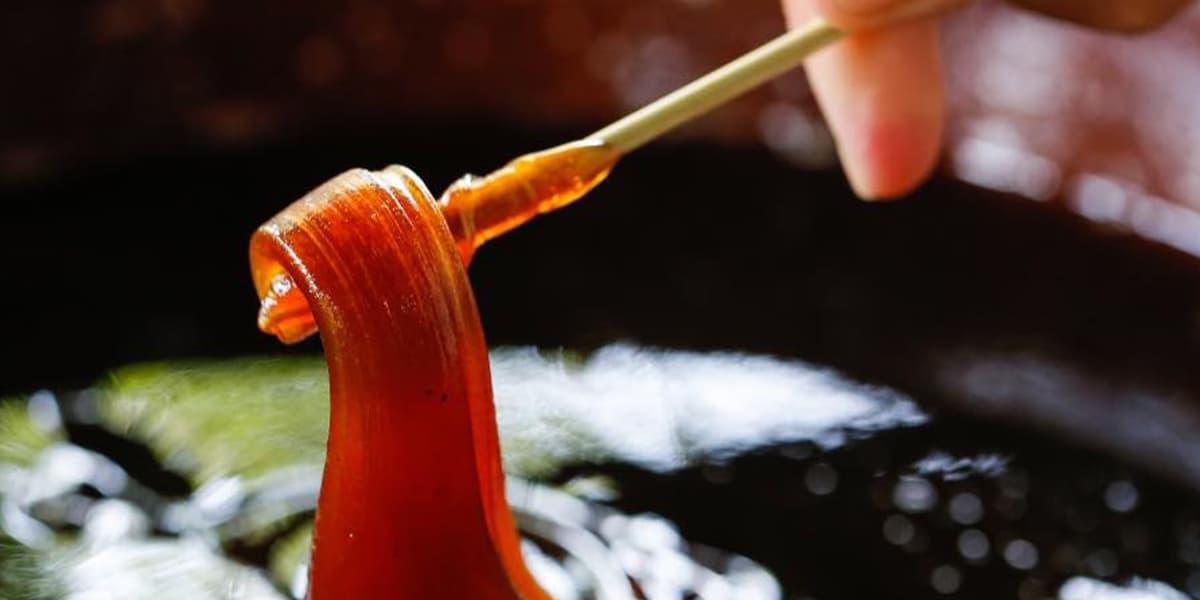 Handmade Firewood Maltose Gift Box
Paired with Taiwanese glutinous rice, the maltose is made by dedicated craftsmen from malt grass grown using pure mountain springs, followed by the traditional method of boiling with firewood. With no added sugar, the maltose has a lovely, sweet taste. Not only can it be eaten on its own, but it also can be used in cooking. It is the most natural and of the best quality.
/ Photos provided by Zhu Bo Yuan Natural Maltose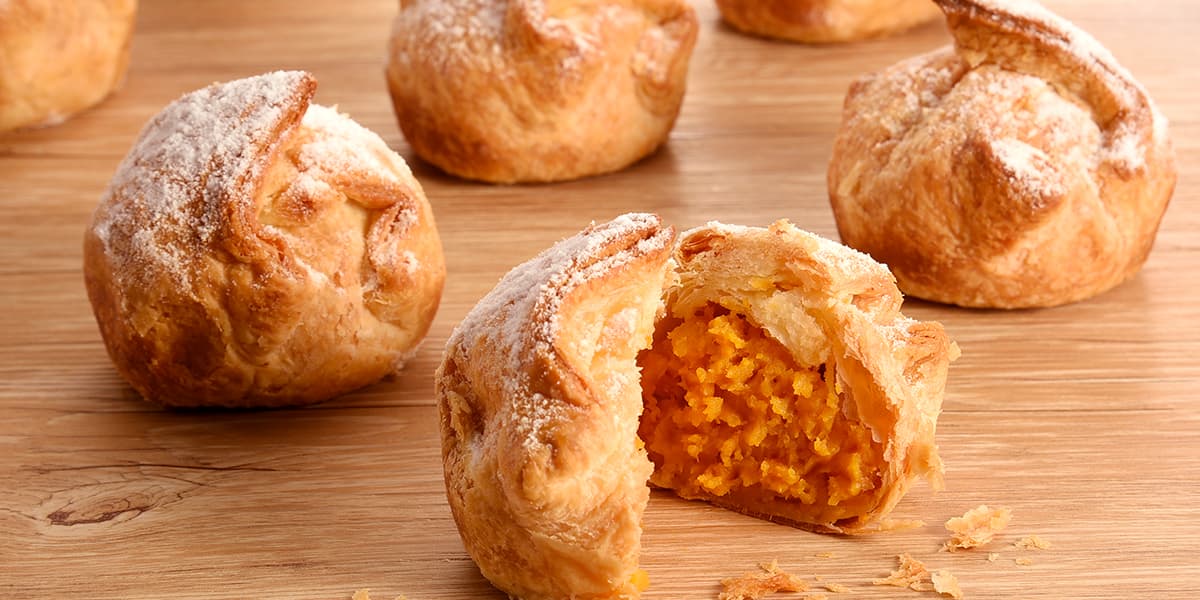 Sweet Potato Puff Pastry Gift Box
The puff pastry is a perfect combination of Tainong No. 66 "red-hearted" sweet potatoes with top quality, unsalted fermented butter. Without adding condiments, the crispy skin and the lovely sweet potato filling with a light creamy aroma will leave an unforgettable taste for any gourmet!
/ Photos provided by Yannick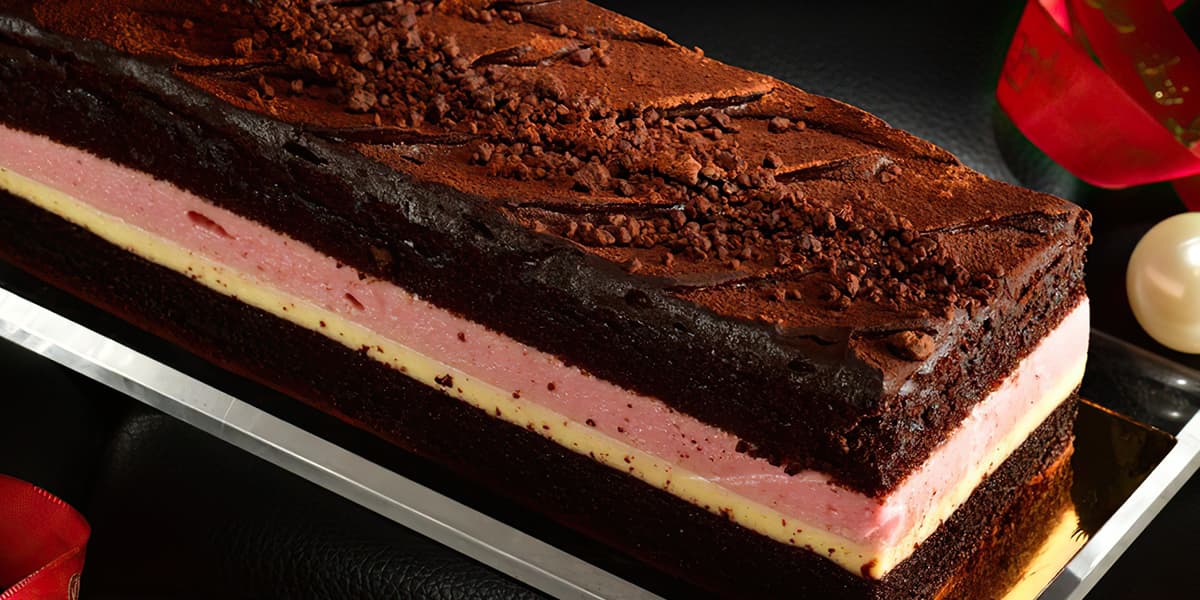 Chocolate Cake with Wild Berries
The upper layer is 85% cocoa beans; the middle and bottom layers are soft chocolate cake with 85% concentration. The cake filling uses raspberries mixed with milk sauce. And under the filling is a handmade layer of French Crème Brûlée. The slightly bitter cocoa combined with the sweet and sour wild berries makes this cake the ultimate enjoyment!
/ Photos provided by Tokyo Paris le dessert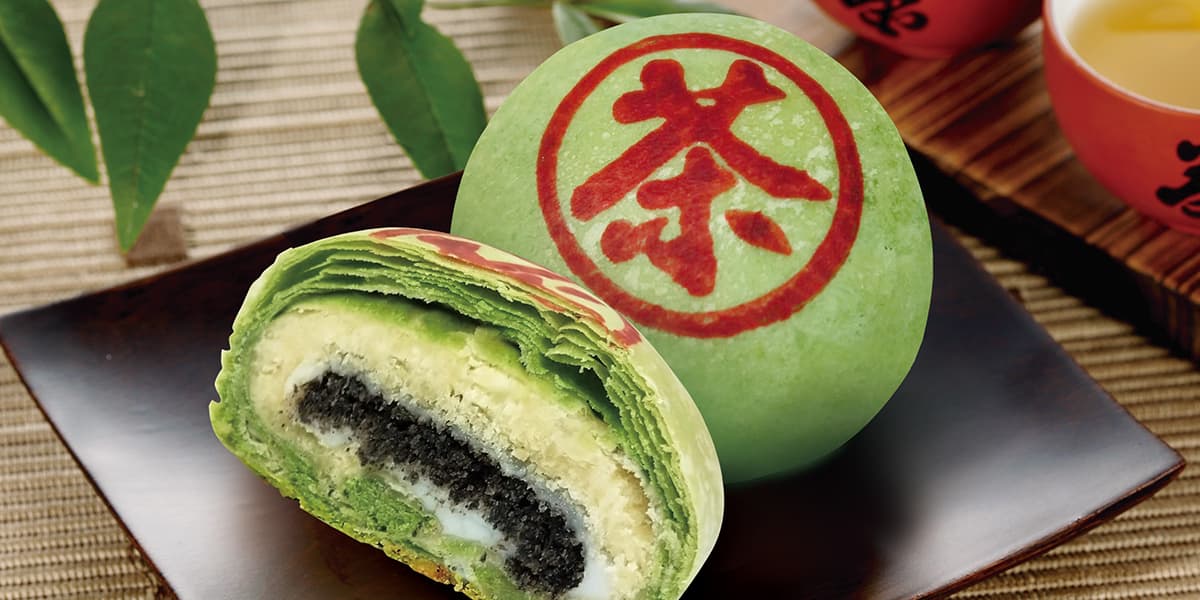 Chin Chyau Oriental Beauty Pastry
Differing from the creamy and egg-rich pastries, Chin Chyau's Oriental Beauty Pastry is full of tea aroma. The crispy sesame seeds add a unique texture that makes it an extra special souvenir!
/ Photos provided by Chin Chyau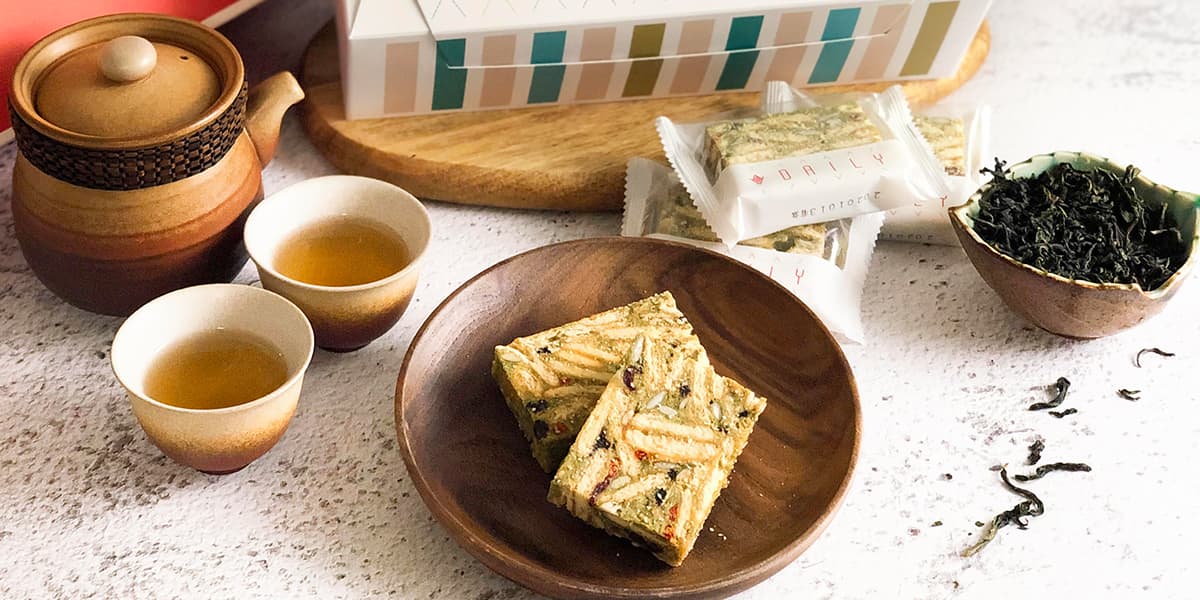 Pouchong Tea Snowflake Cake
While it looks like a crispy biscuit, it has a chewy texture with a unique tea aroma in every bite. When the light aroma of Pouchong Tea is combined with cranberries and nuts, a rich-tasting Pouchong Tea Snowflake Cake is born. With a low-sugar formula, it provides tourists with a healthful and delicious souvenir option.
/ Photos provided by Daily Bakery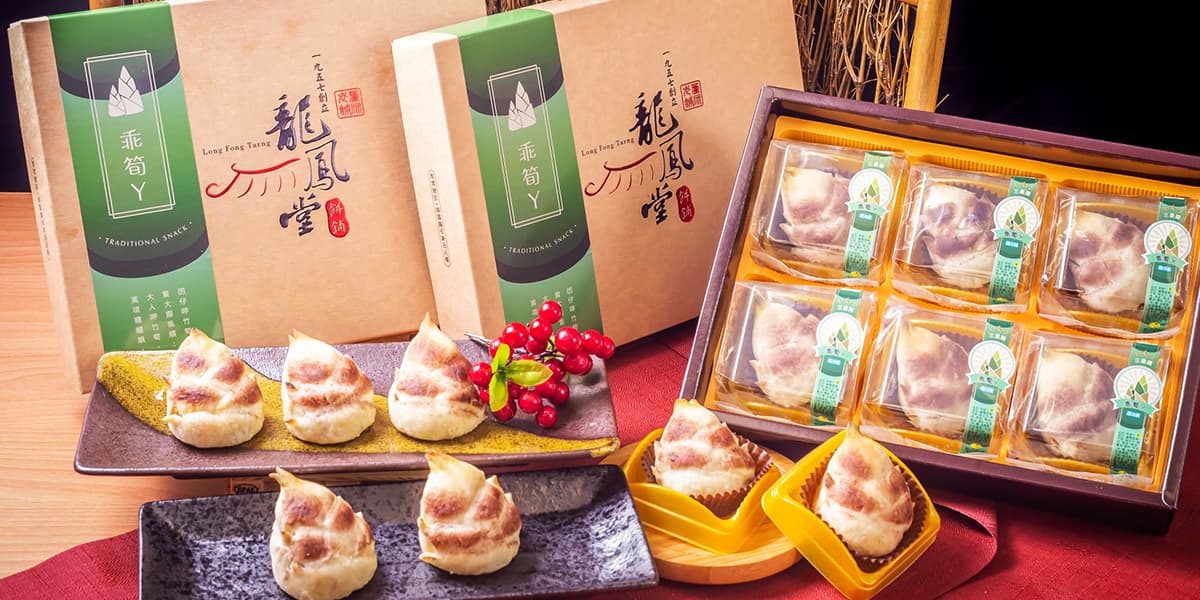 Good "Grandkids" Pastry
Good "Grandkids" Pastry is a cake shaped like Mount Guanyin bamboo shoots; it comes from the third generation of a family bakery. It carries the grandmother's expectations of grandchildren and hopes that all tourists can "eat good bamboo shoots and have good offspring." The green tea powder and the chocolate powder on the outside go well with the crispy skin and the salted egg yolk. The salty and sweet taste is loved by people of all ages!
/ Photos provided by Economic Development Department, New Taipei City Government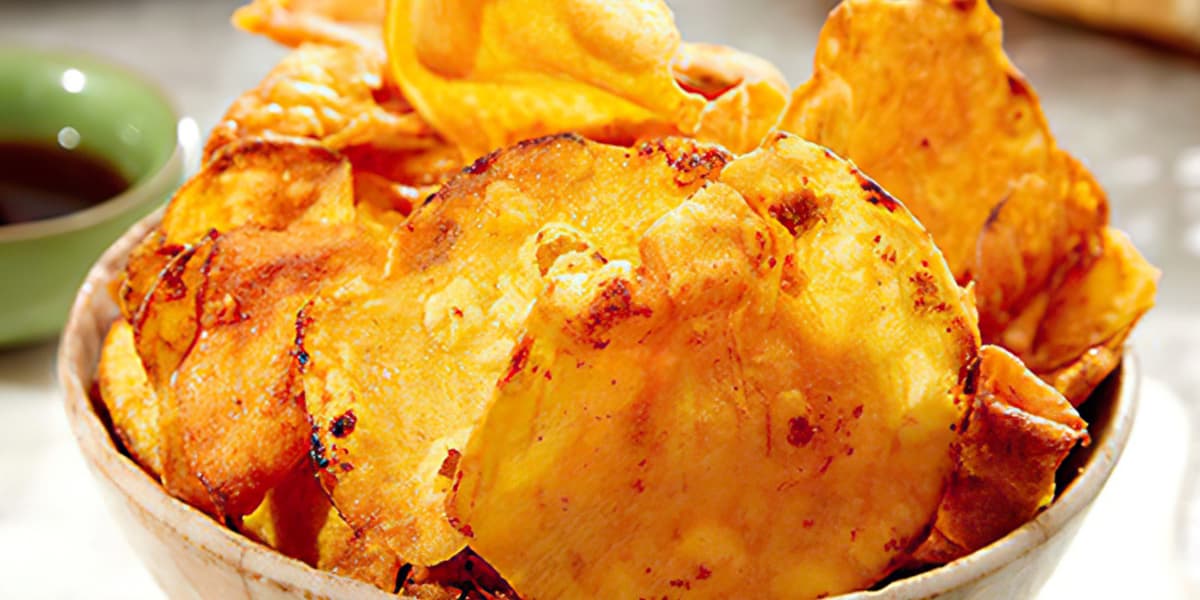 Sweet Potato Chips
JSSTY specializes in sweet potato souvenirs. They strictly select the highest quality sweet potatoes from Taiwan, slice, brush them with sweet and aromatic maltose and bake them, making them the extremely popular charcoal-grilled maltose sweet potato chips. They are crispy, non-sticky, and you can even smell the aroma of charcoal grilling. When refrigerated, the taste of the sweet potato slices will be even more refreshing!
/ Photos provided by JSSTY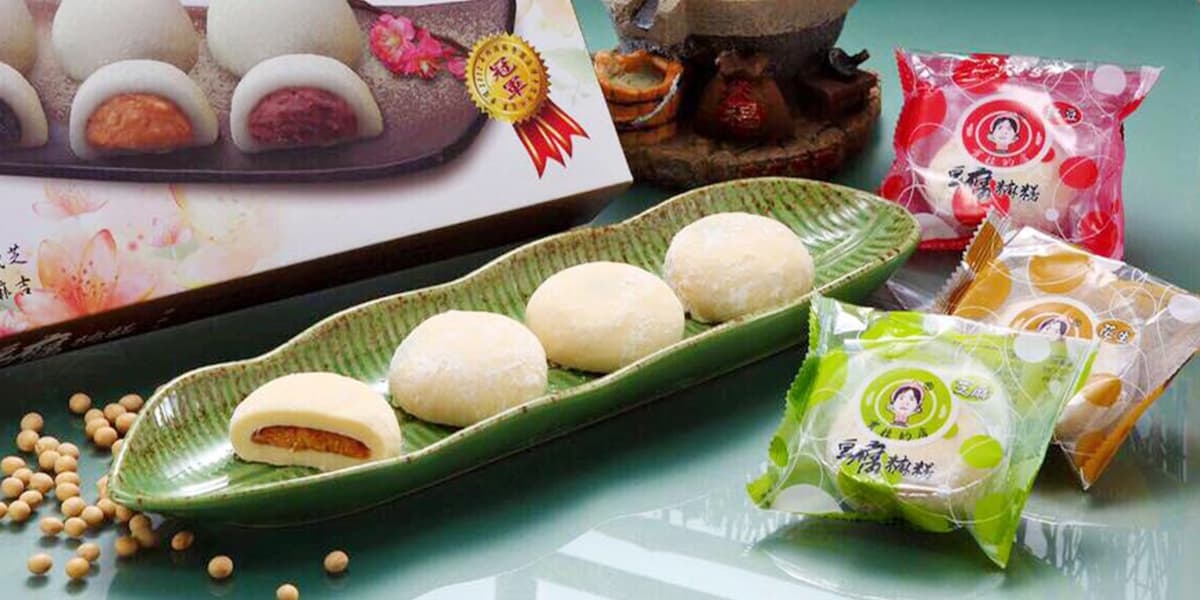 Tofu Mochi
Lots of peanuts, sesame seeds, and red bean filling are encased in tofu-scented mochi skin. Tofu mochi with soy milk is easier to digest and will not easily stick to your teeth. You can also refrigerate it for a richer taste or freeze it and have it chilled like ice cream!
/ Photos provided by Bao Gui's Shop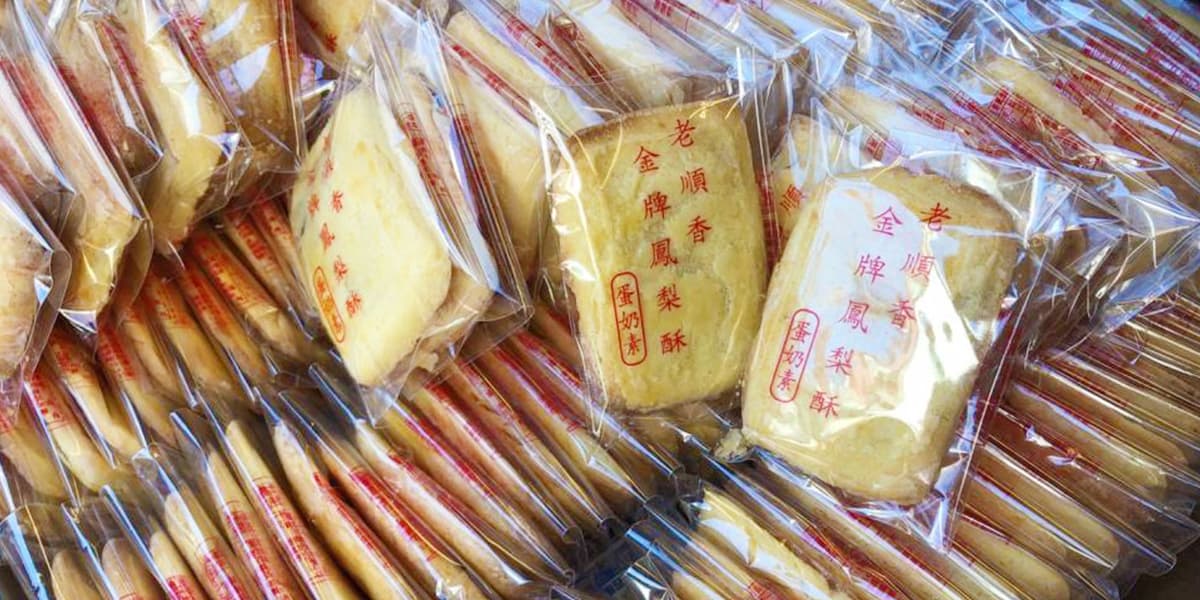 Golden Pineapple Cake
Made with exquisite craftsmanship and passed down for a hundred years, the "Golden Pineapple Cake" is named for its long flat shape, like a gold medal, and has auspicious and joyous meanings. It is crispy on the outside and contains sweet pineapple filling. Loved by locals in New Taipei City, it makes a great gift idea for Mid-Autumn Festival!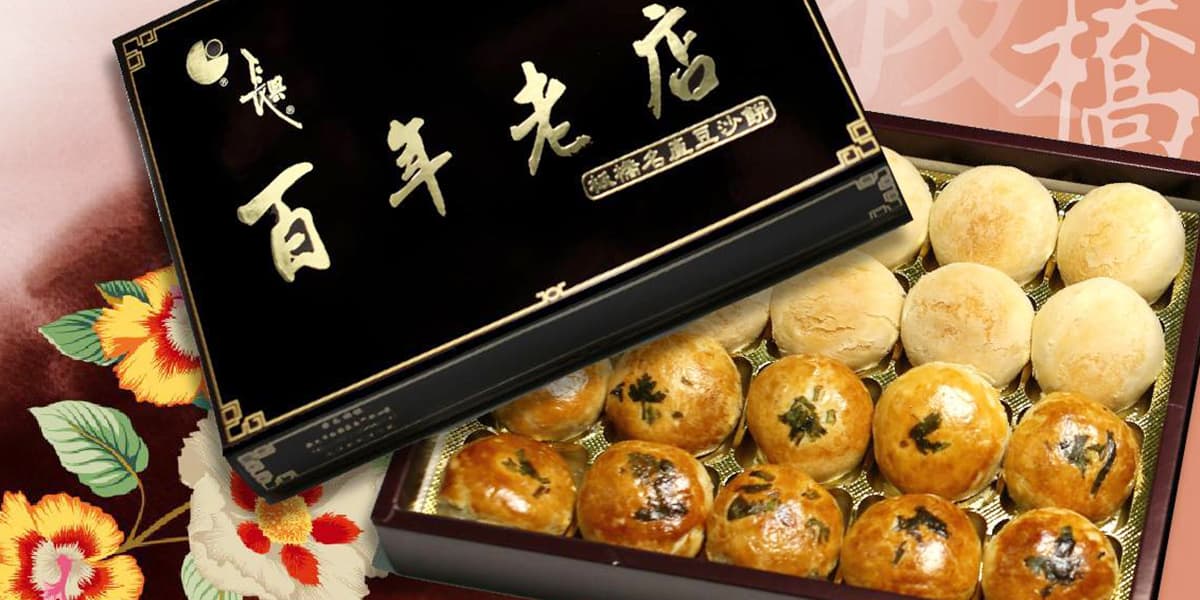 White Bean Paste Cake
The fluffy white bean paste cake with fine bean paste filling is not only loved by the elders, but is also chosen by many soon-to-be-married couples as Taiwanese bride cake. In addition to the traditional white bean paste cake, you can also try the Matcha Bean Paste Cake with a touch of tea aroma, which gives it a unique characteristic.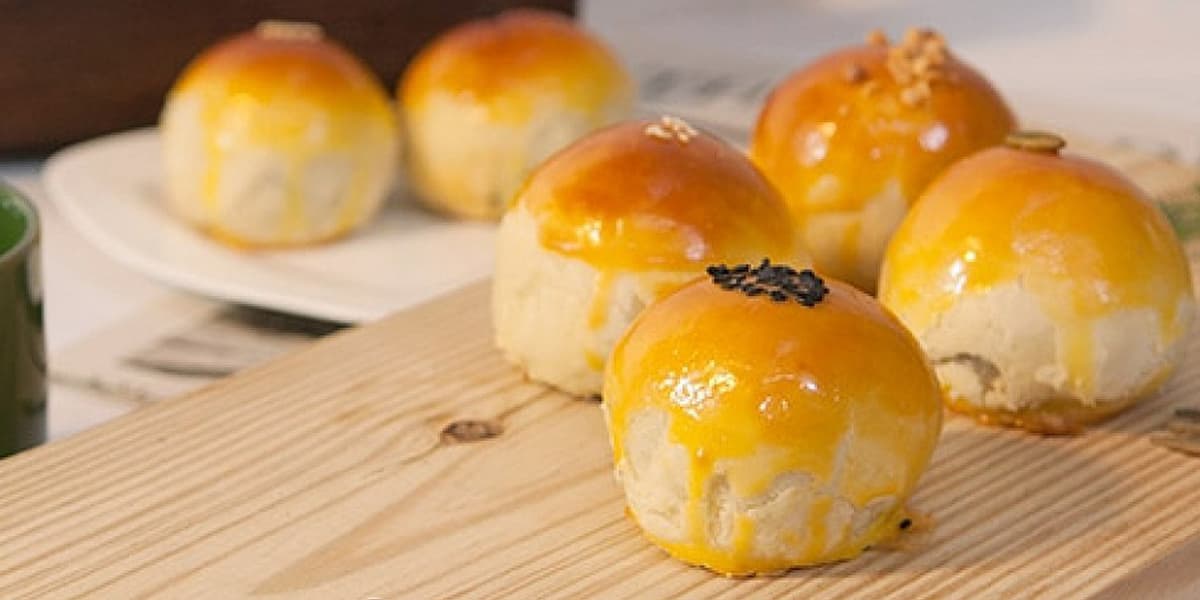 Salted Egg Yolk Pastry
It is baked until crispy and evenly golden on the outside, with specially selected 30-day preserved salted duck egg yolk on the inside. It was the champion for nine consecutive salted egg yolk pastry competitions! During the Mid-Autumn Festival, gourmets always rush in to buy them. There is also a wide variety of selection, such as Pumpkin Carriage Salted Egg Yolk Pastry and Pomelo Mid-Autumn Salted Egg Yolk Pastry, just to name a few.
/ Photos provided by Long Fong Tarng
Anchor point
Savory Food
Pack New Taipei City's delicious savory food to continue the fun of travel.
Anchor point
Good Tea
Shop for tea and enjoy great tea in New Taipei City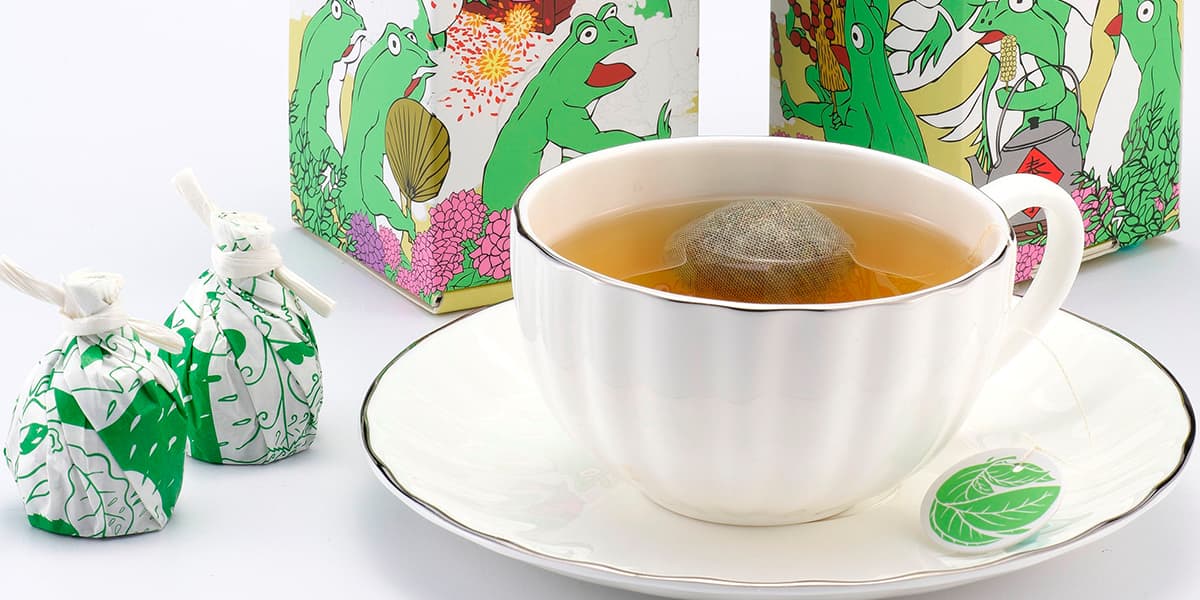 Ello Store – Wenshan Pouchong Tea
By carefully selecting Chin Shin Oolong from the Wenshan tea area with hand-picked one-tip three-leaf and completing with a light fermentation process, an aromatic and refreshing Pouchong tea is born. It has won the reputation of "Taiwan Gongfu Tea". The packaging uses the local emerald tree frog as the mascot, presenting the image of a roundtrip pilgrimage of the gods in Wenshan District and showing the local vitality.
/ Photos provided by Ello Store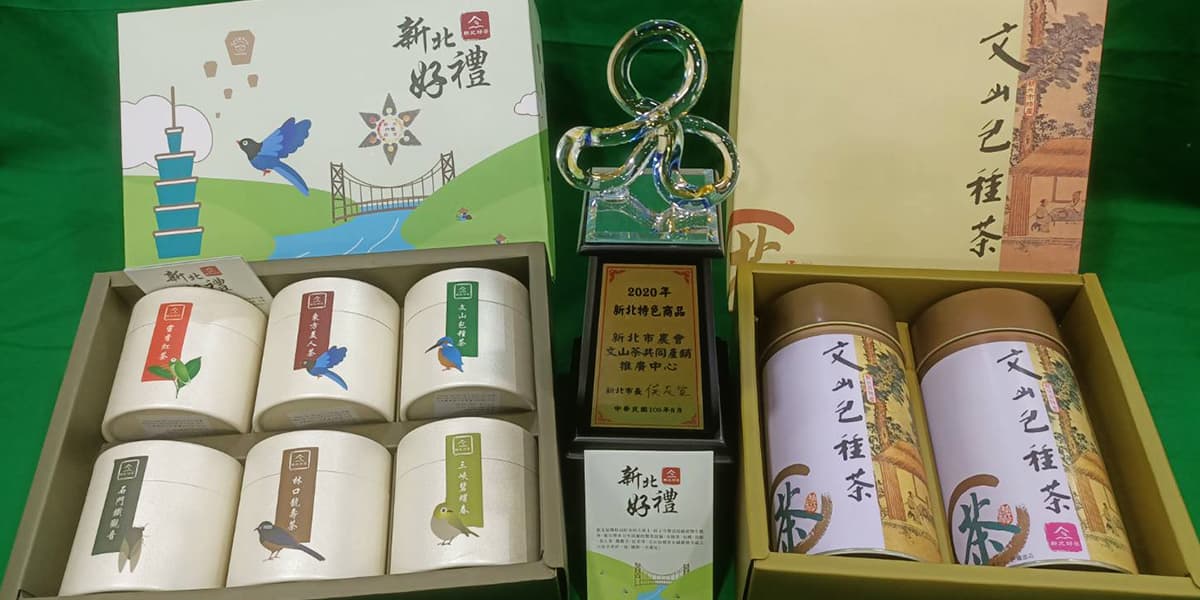 Wenshan Pouchong Tea
Wenshan tea area has a humid climate and fertile land. It is the origin of Taiwan's tea making. The famous "Wenshan Pouchong Tea", also known as "Wenshan Green Tea", has a compact strip-like appearance and dark green color. After brewing, the tea is full of aroma and has a sweet taste.
/ Photos provided by Wenshan Tea Joint Production and Marketing Center, New Taipei City Farmers' Association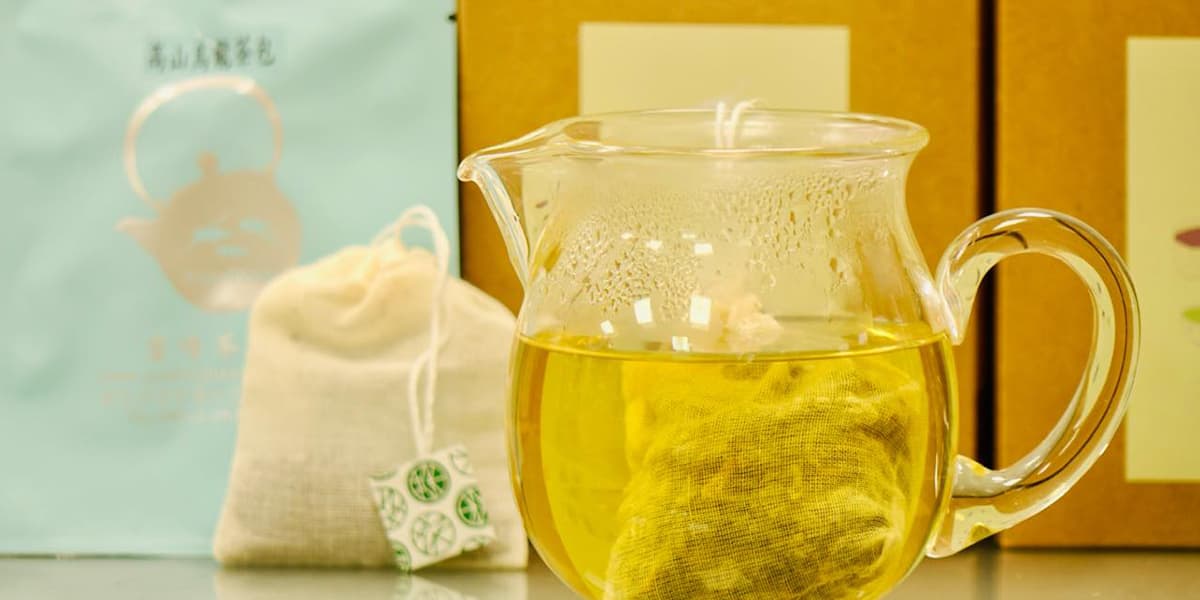 Yunfeng High Mountain Oolong Tea in Handmade Gauze Tea Bag
Tea farmers have been picking and growing high mountain Oolong tea since the Qing dynasty. Each type of tea leaves contains the essence of tea-growing and tea-making passed down by generations of craftsmanship. The tea leaves are packed in a non-bleached gauze bag, so that tourists can taste the mountain tea at its purest form.
/ Photos provided by Yun-Fong Tea Shop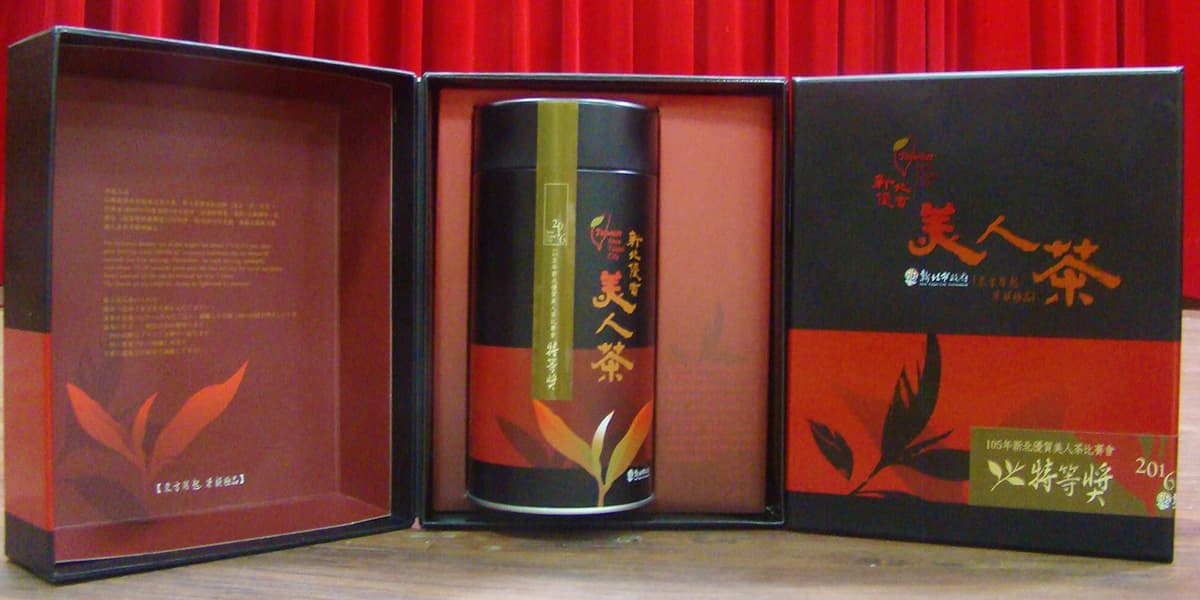 Oriental Beauty Tea
Shiding
The Shiding area has a long history of growing tea and is the second largest tea area in New Taipei City. The unique flavor of Oriental Beauty Tea has something to do with the small green leafhoppers that actively grow in the rain-filled Shiding. The tea plants emit a sweet and fruity aroma after being bitten by these green leafhoppers, hence making them high-quality Oriental Beauty Tea. After brewing, the tea will appear amber red with a honey aroma.
/ Photos provided by Shiding District Farmers' Association, New Taipei City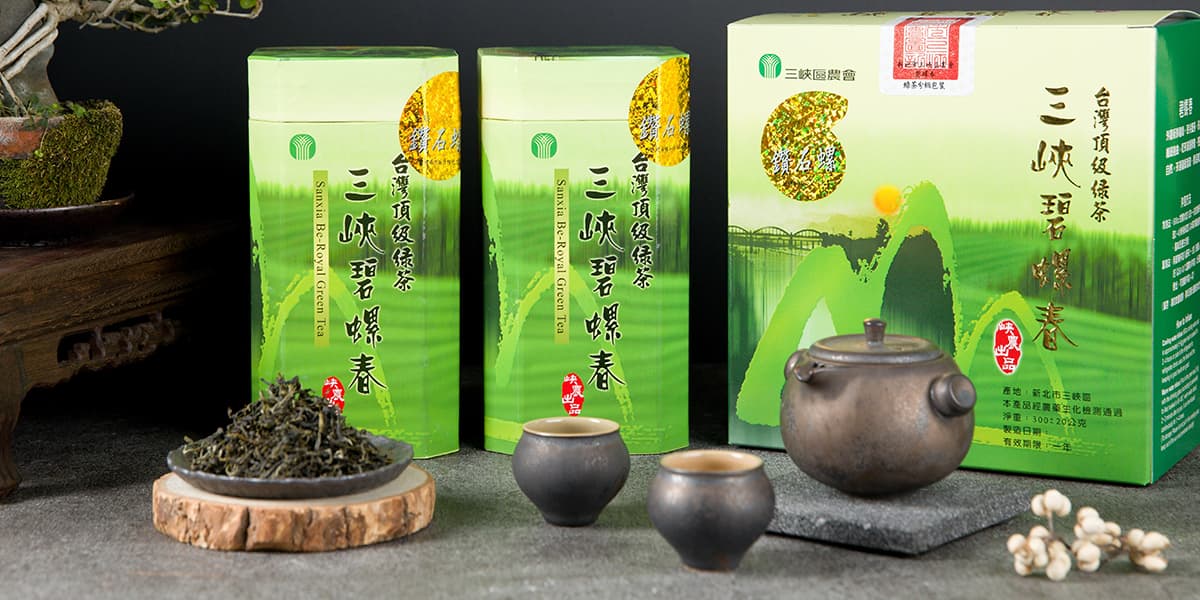 Bi-Luo-Chun Green Tea
Sanxia
Bi-Luo-Chun green tea is one of the top ten teas in China. According to legend, it was named by Emperor Kangxi. "Bi" refers to the emerald green color, "Luo" refers to the spiral shape of tea buds, and "Chun" refers to the tender buds picked in the spring. It is an excellent tea. The Bi-Luo-Chun green tea that produced in Sanxia Tea Area is super sweet and refreshing. It is suitable for either hot or cold brewing!
/ Photos provided by Fresh Farm
Anchor point
Cultural & Creative Products
Learn about the culture and history of New Taipei City and bring back your own gifts from there.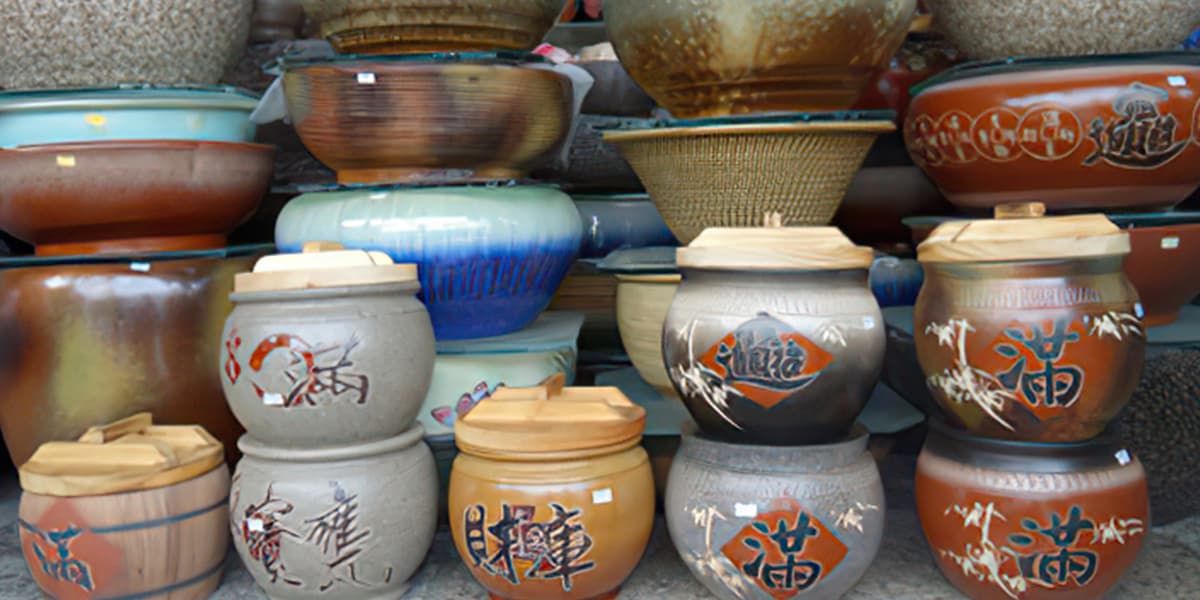 Pottery
Yingge
Yingge is famous for its ceramics and has the reputation of being the "Jingdezhen" in Taiwan. This craftsmanship began a hundred years ago, from making pottery by hand using local materials to automated manufacturing in the present day. Yingge prides itself on the comprehensive pottery-making techniques. Ocarina and ceramic tableware are the most representative souvenirs of Yingge, and has become the tourist attraction for experiencing traditional pottery-making.
/ Photos provided by Chongying Pottery & Porcelain Art Shop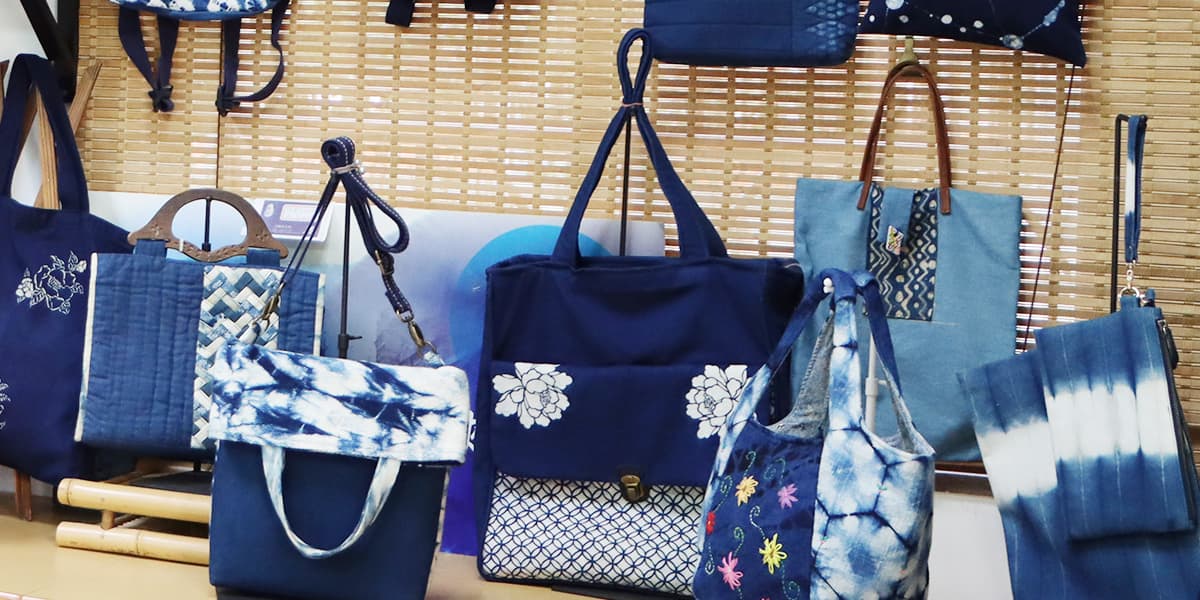 Indigo Dyes
Sanxia
The area around Minquan Street of Sanxia was a popular district for the textile dyes industry, forming the heyday for the Sanxia indigo dyes industry. Today, when it comes to Sanxia Indigo Dyeing Festival every summer, the old streets are covered with indigo dyed colored cloth and umbrellas. Tourists may wish to participate in the indigo dye DIY activity such as hand-making handkerchiefs and T-shirts, etc., making their own New Taipei City souvenirs.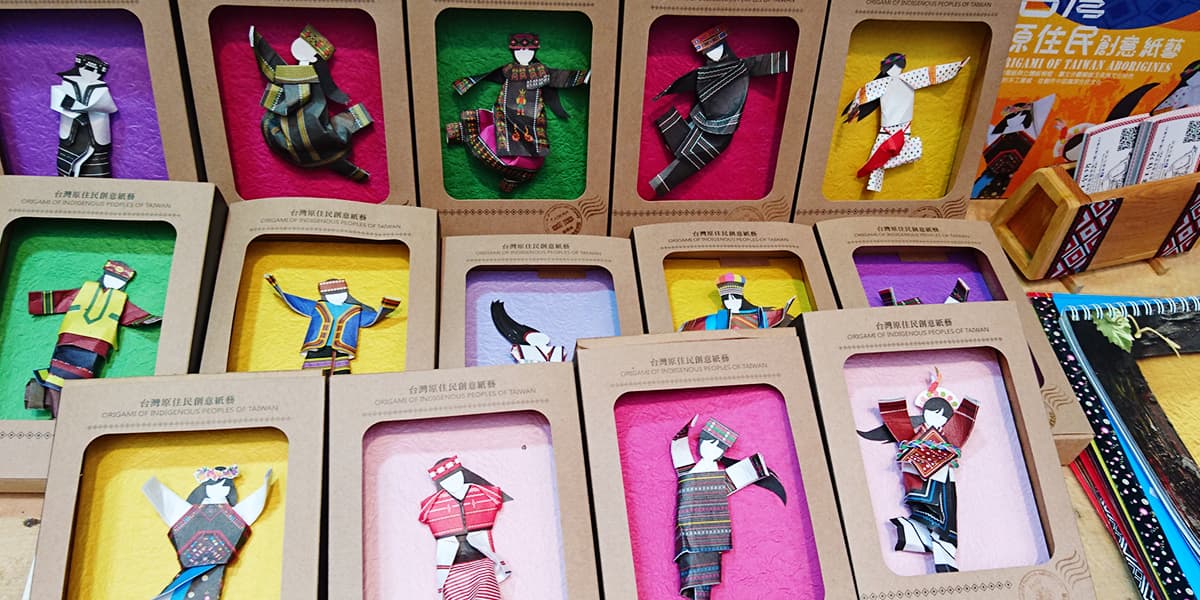 Indigenous handicrafts
Wulai
When in Wulai, tourists can visit the "Wulai Atayal Museum" for free to see Atayal costumes, appliances, and learn about Atayal culture and customs. They can also roam around Wulai Old Street, taste Atayal cuisine, make reservations for DIY workshops, and buy various Atayal cultural souvenirs such as woven bags and turbans handmade by the tribe.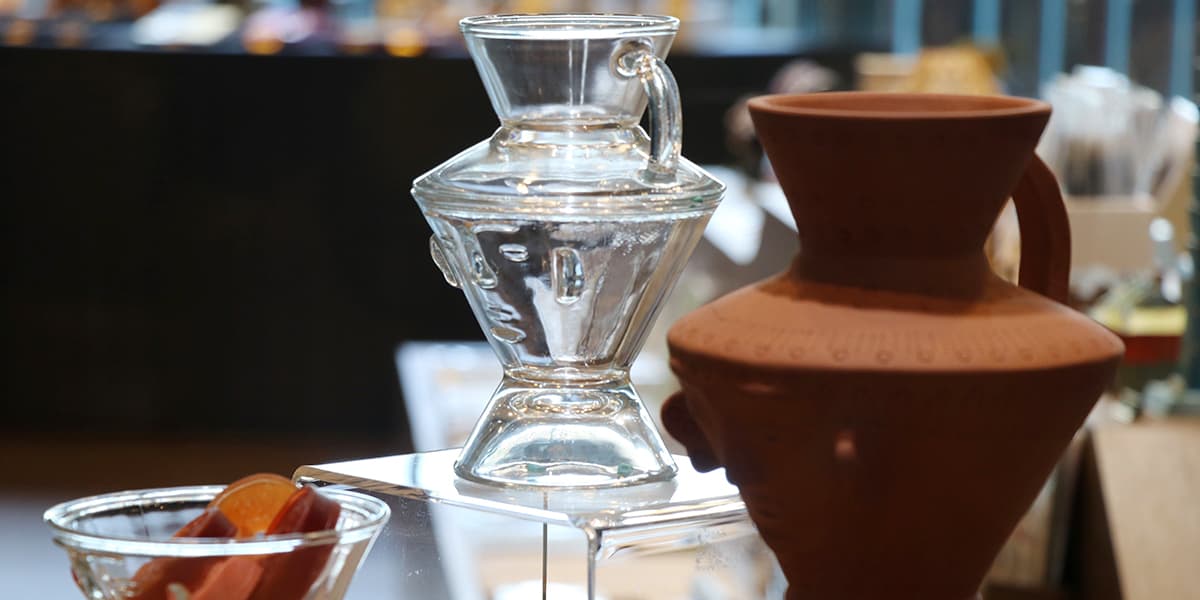 Cultural and Creative Products of Shihsanhang Archaeological Site
Bali
"The Shihsanhang Museum of Archaeology" in Bali District, New Taipei City exhibits relics from the Shihsanhang culture hundreds of years ago, such as bone artifacts, bead decorations and bronze wares, which takes visitors back to explore the life of Shihsanhang people in prehistoric times. The unearthed cultural relics are transformed into various cultural and creative products. Stone pens or archaeological picnic mats can be purchased as souvenirs to bring back the ancient imagery of New Taipei City.
/ Photos provided by The Shihsanhang Museum of Archaeology
/ Parts of the references for souvenirs come from "2020 New Taipei Specialty Products"- Delicious Gifts Group